In the 1920s, sports had become more important to the fabric of society than ever before. Many things contributed to this rise in popularity, but none more so than modern radio. With radio, fans were listening to games in near real-time and could cheer on their team from work, home or any other place that had a radio.
In 1921, a game featuring Texas A&M and the University of Texas became the first college football game to offer a live, play-by-play broadcast. Sports had become a social event outside of the stadium. It is impossible to understate radio's importance to the growth of spectator sport.
Fortunately for broadcasters, there were plenty of larger-than-life characters to talk about. Every sport had a superstar, but none shone brighter than Babe Ruth.
His absolutely dominating play on the field, combined with his penchant for living life on the edge, gave everyone at home something to talk about. And Babe laughed all the way to the bank, making more money than any athlete before him.
Stars like Ruth, Lou Gehrig, Ty Cobb, Mickey Cochrane (Mickey Mantle's namesake), Jimmy Foxx, Rogers Hornsby and many more were bringing fans to the turnstiles in record numbers. Stadiums across the country were renovated and expanded to accommodate the increased demand for sports.
But baseball wasn't the only sport to demand larger stadiums. In fact, the most massive, iconic stadiums in the United States were built in the 1920s for college football.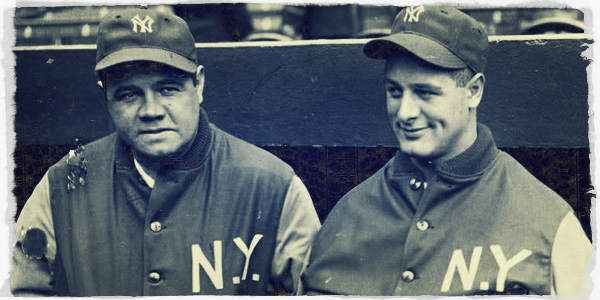 College (American) football was infinitely more popular than professional football. Michigan Stadium was built in 1927 for a cool $950,000 with an original capacity of 72,000. Ohio Stadium was completed in 1922, costing $1.49 million, with an original capacity of 66,210. At the time of completion, Ohio Stadium was the largest poured concrete structure on Earth. Kyle Field (the stadium), Neyland Stadium and Tiger Stadium were all built in the 1920s.
Individual sports were a big draw as well. Bobby Jones (golf) and Jack Dempsey (boxing) had become household names. The Summer Olympics were held in 1920 for the first time since 1912 because World War I had cancelled them in 1916. The worldwide competition was held three times in the 1920s: 1920 (Belgium), 1924 (France) and 1928 (Netherlands).

1920s Major Sports Champions
*Before the NIT and NCAA Tournaments, there was no official national champion in college basketball. In 1936, the Helms Athletic Foundation assembled a group of experts to choose a national champion for college basketball, retroactively, back to 1901. Those champions are used here.
**College football champions were named by several organizations. There were no undisputed champions during the 1920s.
| | |
| --- | --- |
| 1920 | |
| Pro Baseball | Cleveland Indians |
| Pro Basketball | N/A |
| College Basketball | Penn |
| Boxing (HW) | Jack Dempsey |
| Pro Football | Akron Pros |
| College Football | California |
| | |
| 1921 | |
| Pro Baseball | New York Giants |
| Pro Basketball | N/A |
| College Basketball | Penn |
| Boxing (HW) | Jack Dempsey |
| Pro Football | Chicago Staleys |
| College Football | California |
| | |
| 1922 | |
| Pro Baseball | New York Giants |
| Pro Basketball | N/A |
| College Basketball | Kansas |
| Boxing (HW) | Jack Dempsey |
| Pro Football | Canton Bulldogs |
| College Football | California |
| | |
| 1923 | |
| Pro Baseball | New York Yankees |
| Pro Basketball | N/A |
| College Basketball | Kansas |
| Boxing (HW) | Jack Dempsey |
| Pro Football | Canton Bulldogs |
| College Football | California |
| | |
| 1924 | |
| Pro Baseball | Washington Senators |
| Pro Basketball | N/A |
| College Basketball | North Carolina |
| Boxing (HW) | Jack Dempsey |
| Pro Football | Cleveland Bulldogs |
| College Football | Notre Dame |
| | |
| 1925 | |
| Pro Baseball | Pittsburgh Pirates |
| Pro Basketball | Cleveland Rosenblums |
| College Basketball | Princeton |
| Boxing (HW) | Jack Dempsey |
| Pro Football | Chicago Cardinals |
| College Football | Alabama |
| | |
| 1926 | |
| Pro Baseball | St. Louis Cardinals |
| Pro Basketball | Original Celtics |
| College Basketball | Syracuse |
| Boxing (HW) | Gene Tunney |
| Pro Football | Frankford Yellow Jackets |
| College Football | Michigan |
| | |
| 1927 | |
| Pro Baseball | New York Yankees |
| Pro Basketball | Original Celtics |
| College Basketball | Notre Dame |
| Boxing (HW) | Gene Tunney |
| Pro Football | New York Giants |
| College Football | USC |
| | |
| 1928 | |
| Pro Baseball | New York Yankees |
| Pro Basketball | Cleveland Rosenblums |
| College Basketball | Pittsburgh |
| Boxing (HW) | Gene Tunney |
| Pro Football | Providence Steam Roller |
| College Football | Michigan |
| | |
| 1929 | |
| Pro Baseball | Philadelphia Athletics |
| Pro Basketball | Cleveland Rosenblums |
| College Basketball | Montana State |
| Boxing (HW) | Jack Sharkey |
| Pro Football | Green Bay Packers |
| College Football | Notre Dame |