Ahhh, the 1950s: The decade of the baby boomer. Exciting times indeed.
The post-war baby boom was just the beginning. Unfortunately, paranoia about Communism made a lot of good people act bad. Racism was rampant in many parts of the country, but especially in the south.
Although baseball and Jackie Robinson started the integration process in 1947, it really became an integrated sport in the 1950s. Willie Mays and Hank Aaron were two African American baseball players that, at times, completely owned the sport.
If you're name had two M's in it you were a guaranteed star. Mickey Mantle, Marilyn Monroe and Mickey Mouse all were some of the most famous stars of them all.
Movies were still popular, but television was starting to take a chunk out of the film industry's revenue. Every night families huddled around the TV to watch their favorite shows, which was usually a western like Gunsmoke or anything featuring Lucille Ball.
Music in the early 1950s was much like the 1940s: crooners everywhere. And that's not a bad thing, but apparently the kids thought it was. By the mid-1950s Elvis Presley's new style, a sound that upset a LOT of parents, caught on like wildfire.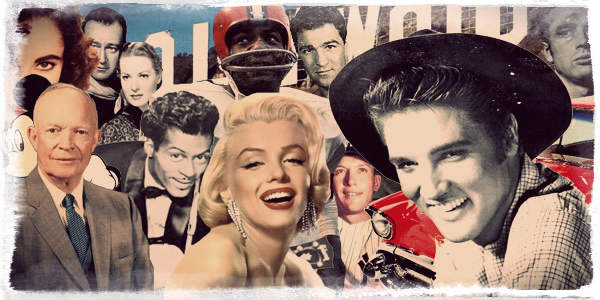 Don't believe me? Look at the charts. Elvis completely dominated the late fifties. And the other artists that charted during his reign were rip-offs (I'm looking at you Conway Twitty). Guys like Chuck Berry, Little Richard and Chubby Checker all ushered in a brand new style of music people called "rock n' roll."
The household also became much more modern. Many appliances that we take for granted now were invented or perfected in the 1950s. Truly it was the decade of the modern American family, who finally had enough money to buy these new conveniences. The average middle class fifties household had a television, a dishwasher, electric appliances and much more.
Learn much more about the 1950s by reading our in-depth profiles below. We cover a wide range of topics like fashion, cars, sorts and much more.
In-Depth 1950s Profiles
Unique 1950s Pictures
CLICK IMAGE TO ENLARGE
1950s News Headlines
On October 3, 1951, New York Giants player Bobby Thomson hit a pennant-winning home run often called the "shot heard 'round the world."
In 1953, Dr. Jonas Salk's polio vaccine was proven effective in University of Pittsburgh tests.
Audrey Hepburn won an Academy Award in 1953 for her portrayal of Princess Ann in the movie Roman Holiday.
J.D. Salinger penned the book, Catcher In The Rye. It has become popular with adolescent readers for its themes of teenage angst and alienation.
Disneyland opened in 1955.
J.R.R. Tolkien publishes the Lord of the Rings.
Maxwell House company claimed in its advertisements to be "Good to the last drop."
In 1954, Roger Bannister ran the first recorded sub-4 minute mile in human history.
In 1958, Bank of America launches the first credit card.
In 1958, the Saab GT750, manufactured in Sweden, becomes the first car to have seat belts.
The classic novel Animal Farm was written by George Orwell.
In 1957, Toyota sells the first Japanese car ever in the United States.
M&Ms new slogan begins: "Melts in your mouth, not in your hands."
In Montgomery, Alabama, a bus boycott begins after Rosa Parks refuses to give up her seat to a white person.
Charlton Heston captivates audiences in the 1959 film titled Ben-Hur.
Play the 1950s Trivia Game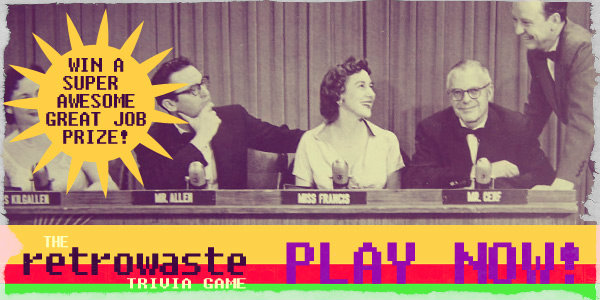 1950s Statistics & Facts (U.S.)
Vital
U.S. Population: 149,188,000
– Urban/rural: 16/9
– Farm: 15.3%
Life Expectancy: Male (65.6), Female (71.1)
Births per 1,000: 24.1
Marriages per 1,000: 11.1
Divorces per 1,000: 2.6
Deaths per 1,000: 9.6
Deaths per 100,000:
– Heart: 502
– Cancer: 139
– Tuberculosis: 22
– Car accidents: 21.3
Economic
Unemployed: 3.288,000
GNP: $364.8 billion
Federal budget: $39.6 billion
National debt: $257.4 billion
Union membership: 14.8 million
Strikes: 4,843
Prime rate: 1.5%
Car sales: 6,665,800
Average salary: $2,992
Social
Homicides per 100,000: 5.3
Suicides per 100,000: 11.4
Labor force male/female ratio: 5/2
Social welfare: $23.51 billion
Public education: $5.84 billion
College Degrees
– Bachelors: Male (328,000), Female (103,000)
– Doctorates: Male (6,969), Female (714)
Attendance
– Movies (weekly): 60 million
– Baseball (annually): 17.6 million
Consumer
Consumer Price Index (if 1967 = 100): 77.1
Eggs: 72 cents per dozen
Milk: 21 cents per quart
Bread: 14 cents per loaf
Butter: 60 cents per pound
Bacon: 64 cents per pound
Round steak: 94 cents per pound
Oranges: 52 cents per dozen
Coffee: 55 cents per pound