In the 1930s, men dressed pretty dapper-ly (is that a word?). Ties and slacks were normal to wear every day.
Even workmen wore dress shirts — albeit the blue collar variety.
The best part about buying men's clothes in the '30s? They had a complete outfit package where you would get a suit, a hat, 3 pairs of socks, 2 dress shirts, a tie, a pair of shoes for $25.
No need to waste time on shopping, let's get it all done at once!
Also, I have a weakness for Wombo Collars.
We'll be breaking down '30s fashion year-by-year on this page, so if you made it here before we were done, please pardon our dust!
1930s Men's Fashion Advertisements
CLICK IMAGE TO ENLARGE
More 1930s Clothes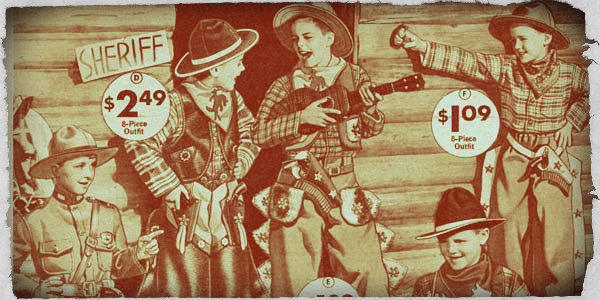 The great thing about boys costumes in the 1930s is that they were all solidly made. They were suede, metal and cotton. Some had fur, others had leather.