Some of the best musicians ever born had their heyday in the 1930s. No one will ever forget the sweet sounds of Louie Armstrong, or the beautiful voice of Billie Holiday.
Duke Ellington, Glenn Miller and Judy Garland were all at the top of their game and the charts. Fred Estaire had a nice run in the 1930s and Count Basie established his dominance.
Most people did not have televisions, so the radio was the primary source of entertainment throughout the decade. And radio wasn't exactly like it is now, where DJs play song after song after song. Radio was filled with entertainment of all sorts: stories, poetry, news, live music, variety shows and more.
Songs in the 1930s were sometimes more popular than the artist. It wasn't strange for a song to become popular by one artist, and then re-done by another artist a month later. Because of this, we tend to focus on the songs more than the artists who performed them, because often times the song was popular and performed by several artists.
Music from the 1930s was generally upbeat and sometimes very relaxing. Humor was an important element in popular music.
Swing and Jazz dominated the music scene in the 1930s. Musicals were also quite popular.
Billie Holiday was singing with everyone and Glenn Miller was at the top of his game. And although many of the songs from the 1930s are not well known today, that doesn't mean they don't soothe your soul after a stressful day at work.
Some of the most classic songs from the 1930s were: In The Mood, God Bless America, Over The Rainbow, Silent Night, Minnie the Moocher, Strange Fruit and Stormy Weather.
The was truly the era of big band, because the 1920s jazz sound had permeated everything, including orchestras. No longer was jazz limited to the traditional 3-piece combo — now it was being played by very large ensembles. The thirties witnessed the rise of big band.
If you head to the record store I'm sure you can find an awesome collection of 30s music back in the dusty section where they sell the 18-record set by Reader's Digest for $2.
Over The Rainbow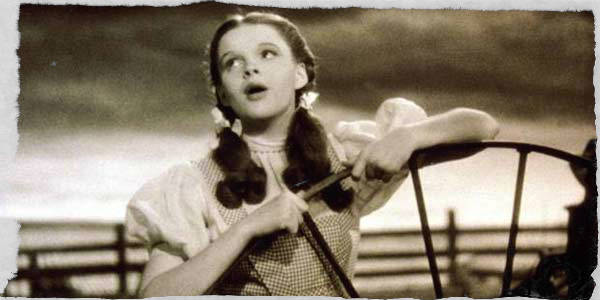 Everyone knows this song. "Over the Rainbow" was written by Harold Arlen and E.Y. Harburg for Wizard of Oz.
It was sung by Judy Garland about 5 minutes into the movie. The song is now known as her signature song.
It was released in 1939, obviously, the same year as the movie.
The song is number one of the "Songs of the Century" list compiled by the Recording Industry Association of America and the National Endowment for the Arts. The American Film Institute also ranked "Over the Rainbow" the greatest movie song of all time on the list of "AFI's 100 Years…100 Songs".
It was adopted (along with Irving Berlin's "White Christmas") by American troops in Europe in World War II as a symbol of the United States—in fact, Garland even performed the song for American troops as part of a 1943 command performance.
In April 2005, the United States Postal Service issued a commemorative stamp recognizing lyricist Yip Harburg's accomplishments. The stamp pictures the opening lyric from "Over the Rainbow".
In The Mood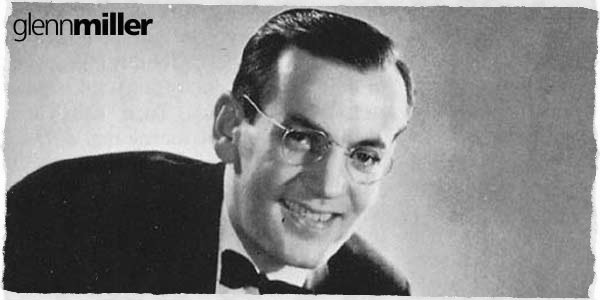 "In the Mood" is a big band era #1 hit recorded by American bandleader Glenn Miller. It topped the charts in 1940 in the U.S. and one year later was featured in the movie Sun Valley Serenade.
No big band-era mixtape/mashup is complete without this one in the rotation. Gotta jukebox?
Like many awesome things in the 1930s, this recording was ALSO released in 1939. What an unbelievable year!
In 1999, National Public Radio (NPR) included the 1939 Glenn Miller recording on RCA Bluebird on the NPR 100, the list of "The 100 most important American musical works of the 20th century".
The recording by Glenn Miller is one of the most recognized and most popular instrumentals of the 20th century. The song even appeared in The Beatles "All You Need is Love" #1 single in 1967.
Music in 1930
What were the most popular songs in 1930?
Body and Soul
Georgia on My Mind
The Battles of Jericho
Beyond the Blue Horizon
What Is This Thing Called Love?
Walkin' My Baby Back Home
Embraceable You
I Got Rhythm
Bidin' My Time
Little White Lies
On the Sunny Side of the Street
Love for Sale
St. James Infantry
What were the most popular albums in 1930?
Tiger Rag by Mills Brothers
You Brought a New Kind of Love to Me by Maurice Chevalier
Ten Cents a Dance by Ruth Etting
Let Me Sing and I'm Happy by Al Jolson
Three Little Words by Ipana Troubadours
Puttin' On the Ritz by Leo Reisman
Kansas City Kitty by Rudy Vallee
Sing You Sinners by Smith Ballew
Who were some popular Jazz and Big Bands artists in 1930?
Duke Ellington
Paul Whitman
Nichols Band with Benny Goodman
Gene Krupa
Tommy Dorsey
Glenn Miller
Jack Teagarden
Music in 1931
What were the most popular songs in 1931?
Life Is Just a Bowl of Cherries
Minnie, the Moocher
Mood Indigo
All of Me
Between the Devil and the Deep Blue Sea
Dancing in the Dark
Dream a Little Dream of Me
Of Thee I Sing
The Thrill is Gone
Lady of Spain
Live is Sweeping the Country
What were the most popular albums in 1931?
The Peanut Vendor by Don Azpiazu
Where the Blue of the Night by Bing Crosby
Goodnight, Sweetheart by Ruth Etting
When the Moon Comes Over the Mountain by Kate Smith
You Rascal You by Jack Teagarden
Just a Gigolo by Bing Crosby
I Found a Million Dollar Baby by Ben Pollack
Who were some popular Jazz and Big Bands artists in 1931?
Freddie Martin
Eddie Duchin
Don Redman
Henry Busse
Paul Whitman
Glenn Miller
Music in 1932
What were the most popular songs in 1932?
Night and Day
April in Paris
I'm Getting Sentimental Over You
In a Shanty in Old Shanty Town
Shuffle Off to Buffalo
I Told Every Little Star
How Deep Is The Ocean
Granada
You're an Old Smoothie
Forty-Second Street
You're Getting to Be a Habit With Me
What were the most popular albums in 1932?
New Tiger Rag by Louis Armstrong
Reefer Man and The Man from Harlem by Cab Calloway
If You Were the Only Girl by Rudy Vellee
It Don't Mean a Thing If It Ain't Got That Swing by Duke Ellington
Music in 1933
What were the most popular songs in 1933?
It's Only a Paper Moon
Smoke Gets in Your Eyes
Lazy Bones
Easter Parade
Who's Afraid of the Big Bad Wolf?
Everything I Have Is Yours
Inka Dinka Doo
Lover
Let's Fall in Love
Temptation
What were the most popular albums in 1933?
Stormy Weather by Ethel Waters
I Cover the Waterfront by Eddy Duchin
Forty-Second Street by Hal Kemp
Gold Diggers' Song by Dick Powell
Honeymoon Hotel by Freddy Martin
Heartaches by Ted Weems
Sophisticated Lady by Duke Ellington
Music in 1934
What were the most popular songs in 1934?
Blue Moon
Anything Goes
Blow, Gabriel, Blow
I Only Have Eyes for You
Cocktails for Two
The Continental
What a Diff'rence a Day Made
Tumbling Tumbleweeds
On the Good Ship Lollipop
You and the Night and the Music
You're the Top
I Get a Kick Out of You
Isle of Capri
The Very Thought of You
What were the most popular albums in 1934?
Honeysuckle Rose by Dorsey Brothers
Moonglow by Duke Ellington & Benny Goodman
Limehouse Blues by Fletcher Henderson
Sweet Georgia Brown by Earl Hines
Star Fell On Alabama by Jack Teagarden
Down Yonder by Gil Tanner
The Darktown Strutter's Ball by Luis Russell
Let's Fall in Love by Eddy Duchin
Who were some popular Jazz and Big Bands artists in 1934?
Benny Goodman
Bunny Berigan
Jess Stacy
Gene Krupa
Fletcher Henderson
Paul Whitman
Glenn Miller
Music in 1935
What were the most popular songs in 1935?
Begin the Beguine
The Music Goes 'Round and 'Round
East of the Sun and West of the Moon
It Ain't Necessarily So
I Got Plenty O' Nuthin'
Lovely to Look At
Red Sails in the Sunset
Stairway to the Stars
Summertime
These Foolish Things Remind Me of You
I Loves You, Porgy
You Are My Lucky Star
When I Grow Too Old to Dream
What were the most popular albums in 1935?
Cheek to Cheek by Fred Astaire
I'm in the Mood for Love by Frances Langford
It's You I Adore by Russ Morgan
The Oregon Trail by Ozzie Nelson
Lullaby of Broadway by Dick Powell
Zing! Went the Strings of My Heart by Victor Young
June in January by Bing Crosby
Footloose and Fancy Free by Dorsey Brothers
Music in 1936
What were the most popular songs in 1936?
I'm an Old Cow Hand
Is It True What They Say About Dixie?
I've Got You Under My Skin
The Night is Young and You're So Beautiful
Sing, Sing, Sing
Stompin' at the Savoy
There's a Small Hotel
W.P.A. Blues
Wiffenpoof Song
You've Gotta Eat Your Spinach, Baby
What were the most popular albums in 1936?
Let's Face the Music and Dance, Let Yourself Go, The Way You Look Tonight and Pick Yourself Up by Fred Estaire
Pennies from Heaven by Bing Crosby
In the Chapel in the Moonlight by Ruth Etting
No Regrets by Billie Holiday
Love is Like a Cigarette and Welcome Stranger by Eddy Duchin
Indian Love Call by Nelson Eddy & Jeanette MacDonald
Who were some popular Jazz and Big Bands artists in 1936?
Jo Jones
Buck Clayton
Count Basie
Mildred Bailey
Meade Lux Lewis
Pete Johnson
Albert Ammons and
Bob Zurke
Lester Young
Music in 1937
What were the most popular songs in 1937?
A Foggy Day
The Donkey Serenade
Harbor Lights
Nice Work if You Can Get It
Whistle While You Work
I've Got My Love to Keep Me Warm
Johnny One Note
The Lady Is a Tramp
My Funny Valentine
September in the Rain
Thanks for the Memory
In the Still of the Night
Where or When
What were the most popular albums in 1937?
Bei mir bist du Schoen by Andrew Sisters
They Can't Take That Away From Me, They All Laughed, Let's Call the Whole Thing Off and Shall We Dance by Fred Estaire
Someone to Care for Me by Deanna Durbin
Ebb Tide by Bunny Berigan
Have You Met Miss Jones? by Sammy Kaye
Sweet Leilani by Bing Crosby & Lani McIntire and His Hawaiians
Who were some popular Jazz and Big Bands artists in 1937?
Benny Goodman
Charlie Parker
Jay McShann Band.
Mary Lou Williams
Andy Kirk's Kansas City Band
Harry James
Benny Goodman
Hal Kemp
Ella Fitzgerald
Carmen Mastren
Bob Haggert
Teddy Wilson
Gene Krupa
Tommy Dorsey
Chu Berry
Harry James
Music in 1938
What were the most popular songs in 1938?
Chiquita Banana
Falling in Love With Love
This Can't Be Love
They Say
You Must Have Been a Beautiful Baby
Get Out of Town
My Heart Belongs to Daddy
September Song
Jeepers Creepers
My Reverie
Spring is Here
What were the most popular albums in 1938?
Love Walked In by Kenny Baker
I Married an Angel by Larry Clinton
It's Wonderful by Shep Fields
Thanks for the Memory and Two Sleepy People by Bob Hope and Shirley Ross
You Go to My Head by Kay Kyser
Love in the Starlight by Dorothy Lamour
One O'Clock Jump by Harry James
Begin the Beguine by Artie Shaw
Jalousie by Boston Pops, Arthur Fiedler
Beer Barrel Polka by Will Glahe
A-Tisket, A-Tasket by Chick Webb & Ella Fitzgerald
Boogie Woogie by Jimmy Dorsey
Who were some popular Jazz and Big Bands artists in 1938?
Benny Goodman
John Hammond
Count Basie and
Joe Turner
Billie Holiday joins
Artie Shaw's band
Casa Loma
Benny Heller
Bob Haggart
Bob Zurke
Bud Freeman
Harry James
Music in 1939
What were the most popular songs in 1939?
All the Things You Are
South of the Border
Frenesi
I Concentrate on You
I Didn't Know What Time It Was
I'll Never Smile Again
If I Didn't Care
My Prayer
Brazil
Ding-Dong! The Witch is Dead!
Tara's Theme
What were the most popular albums in 1939?
Oh, Johnny Oh by Orrin Tucker with Bonnie Baker
Miss Thing by Count Basie
It Don't Mean a Thing by Lionel Hampton
Body and Soul by Coleman Hawkins
Indiana by Earl Hines
Some Like it Hot by Gene Krupa
Little Brown Jug, In the Mood and Sunrise Serenade by Glenn Miller
That Silver-Haired Daddy of Mine by Gene Autry
Ciribiribin by Harry James
Over the Rainbow by Judy Garland
Strange Fruit by Billie Holiday
Tuxedo Junction by Erskine Hawkins
Cherokee by Charlie Parker
Who were some popular Jazz and Big Bands artists in 1939?
Charlie Parker
Charlie Christian
Benny Goodman
Jimmy Blanton
Billy Strayhorn
Ben Webster
Duke Ellington
Sy Oliver
Jimmy Lunceford
Tommy Dorsey
Billy Eckstine
Earl Hines
Browse 1930s Music by Artist or Song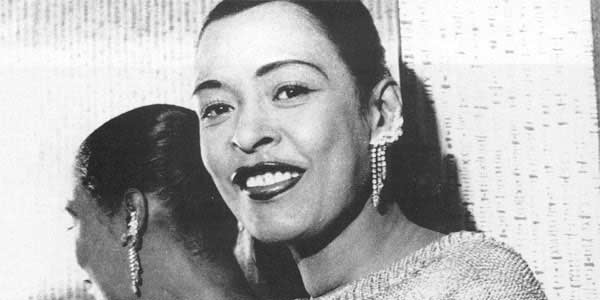 Billie Holiday is one of the greatest singers of the 20th Century. She left a legacy that will never be forgotten.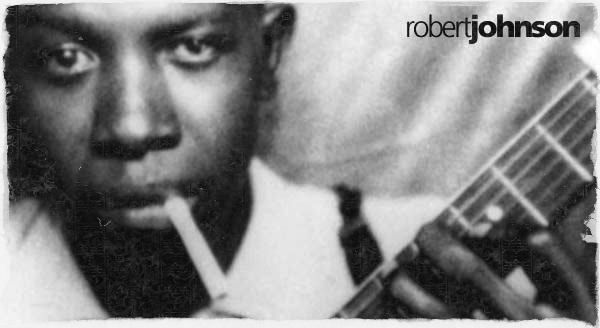 When you listen to Robert Johnson's music, you feel the pain and suffering in his voice and his roughshod bluesy guitar playing. It's amazing.