The complexity of toys really exploded in the 1990s. Video games became incredibly more sophisticated, electronic toys could do truly amazing things and other toys had artificial intelligence we never dreamed possible just 20 years prior.
Some toys could interact with the television, others were of silly, purple dinosaurs named Barney.
The Super Nintendo and the Sega Genesis gaming consoles completely revolutionized home video gaming. It set the expectation level 10 steps higher than any gaming consoles prior.
The most popular toys were licensed toys. Gone were the days of a regular toy. It had to be a toy from a TV show or a movie. It had to be an actual athlete with the actual team logo on it. If your toy wasn't licensed, you probably had a hard time selling it in the 1990s.
The action figures were so much better, too. Let's take a deeper look at some of the most popular toys in the 1990s.
Toys in 1991
One of 1991's best-selling items was the new Super Nintendo Entertainment System. Super NES, was a 16-bit video game system that provided sharper colors, clearer sound, and faster action than the older 8-bit systems.
In October 1991, Nintendo forecast that total retail sales of its hardware, software, and accessories would reach $4-billion in 1991, which was 18 per cent above the company's 1990 sales of $3.6 billion. The 16-bit market had been dominated by the Genesis game system, which first rolled out in 1989.
The Persian Gulf War spurred quick development of some military toys, in contrast to the drop in popularity of toy guns and other war toys experienced during U.S. participation in the Vietnam War (1957-1975).
The Scud missile used by Iraq during the Persian Gulf War inspired International Hobby Corporation of Philadelphia to introduce a missile and missile-launcher model kit with the same name.
Trading card producer Topps Company Inc. of Brooklyn, a borough of Toys and games New York City, published a Desert Storm Collector Series of stickers and trading cards depicting U.S. military officers, weapons, and hardware.
Other companies rushed to produce novelty items bearing the likeness of Iraq's President Saddam Hussein, such as golf balls and punching bags. But many of these items disappeared from stores shortly after the war ended.
Exceptionally warm spring and summer weather in many parts of the United States helped boost the popularity of some outdoor fad items, which, in turn, helped offset the toy sales drought. Super Soaker from Larami Corporation of Philadelphia hit the stores with a
splash of popularity that caught many store owners by surprise. Super Soaker is a semiautomatic water pistol that holds two quarts (1.9 liters) of water. It reportedly can shoot up to 1,000 times without a refill and can hit targets almost 60 feet (18 meters) away.
Super Grip Ball, an outdoor game manufactured by Mantae America, was made for two players. The game consisted of two components—one Velcro-covered ball about the size of a tennis ball and two Velcro-covered disks with strap handles. The disks function like a baseball catcher's mitt. The self-sticking Velcro on both components makes the ball easy to catch.
Environmental themes mushroomed throughout the toy industry in 1991. Pollution/Solution and Save the World games and Animals of the Rain Forest stuffed toys were among a growing list of items focusing on ecological topics. Toyland troops joining the fight to save Earth included characters from comics, motion pictures, and television, as many large and small manufacturers unveiled new action heroes for the 1990's.
The Swamp Thing line from Kenner, was modeled after elements in a syndicated television series. In the series, the hero, biochemist Dr. Alec Holland, becomes a plantlike
creature because of a toxic accident. He battles an environment-wrecking mad scientist. The toy line included action figures, a Swamp Thing Swamp Trap, and a Bayou Blaster Villain Vehicle.
Some old favorites also enlisted in the ecological wars. G.I. Joe, produced by Hasbro Inc. of Pawtucket, R.I., appeared as G.I. Joe Eco-Warrior. His mission was to stop the evil Cobra's contamination of the biosphere. Tyco Toys updated its laboratory sets to include a complete environmental laboratory, called Chemcraft Ecology Science Lab, with 10
ecological experiments, such as testing for acid rain.
Care Bears were redesigned to include special graphics on their tummy patches that bear environmental themes, such as recycling.
Mattel debuted a line of dark-skinned fashion dolls named Shani that was based on African-American culture. The dolls were available in three skin tones and had different facial features.
Doll marketer Cathy Meredig of Woodbury, Minn., created the Happy to Be Me doll, the first product of her High Self-Esteem Toys Corporation, because she wanted to offer a doll with realistic body proportions, such as larger waists.
Toys in 1993
Dinosaur related toys and games, many of them inspired by Jurassic Park, were among the most popular product lines in 1993.
The Littlest Pet Shop was premiered by Kenner. It was a line of tiny plastic animals, including dogs, cays, rabbits, ahmsters and turtles, that come with the own palm-sized homes.
Toy Biz introduced Mini Caboodles. The toy consists of a carrying case that opens to reveal a thematic playset and miniature doll.
Mighty Max from Mattel Toys was a miniature adventurer who travels to scary microworlds. The toy was packaged in plastic cases that came in a variety of shapes.
Two toys that responded to signals broadcast from TV programs or videotapes were unveiled in 1993. Both toys, Toby Terrier and TV Teddy, were geared toward the younger children's market and came with their own videotapes.
Barney the purple dinosaur continued to rule the TV screen in 1993 and his success was mirrored in the toy industry. Even a backlash from adults tired of what they regarded as syrupy sentimentalism failed to diminish sales of Barney products.
Disney's sublime Aladdin also inspired a great many toys in 1993.
The first radio-controlled doll was on a roll. Mattel's Baby Walk 'N Roll came in her own walker, which was guided by a remote control device shaped like a baby's rattle. Baby Giggles 'N Go was another popular doll.
Pictures of 1990s Toys
CLICK IMAGE TO ENLARGE
More 1990s Toys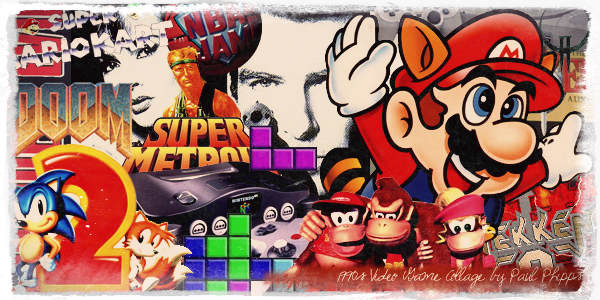 The most popular video games in the 1990s were pretty awesome. But it was the new sophisticated first-person shooter that changed video games forever.