The 1960s were a golden era for toys. Kids had countless more toys to choose from compared to previous decades and parents spent more on their kids also. Combine that with bigger families in general and that leads to an influx of cash streaming into the toy industry.
A large percentage of toys that were introduced in the 1960s stuck around for several years. A quick glance at a 70s-era toy catalog looks a whole lot like a 60s catalog. And some of them are still around to this day.
Toys like G.I. Joe, Twister and Operation can still be found on toy shelves around the world. They came from the 60s.
Boys still loved to play war. Girls still loved kitchen sets. But toy manufacturers were making toys electronic any way possible. If a toy was electric, that meant it was "new."
One unmistakable difference between toys in the 1960s and toys before that is licensing. After Batman's huge success in 1966, Batman-themed toys were flying off the shelves.
Toymakers rushed to make a Batman-themed anything. Still, people bought them. This showed toy companies that if they can't find the right license, they can practically print money.
It is expected today that a toy will be themed after something in the movies, on TV or available from some other kind of media, but that phenomenon really grew and took hold in the 1960s.
What toys did kids play with in the 1960s? The most popular toys in the 1960s were:
Molded Plastic Playsets (Army Men, Cowboys & Indians, Civil War, Farm, etc.)
Die-Cast Model Cars, Trucks & Other Vehicles (Corgi, Matchbox, etc.)
Barbie & Accessories
Electric Sports Games (Football, Baseball, Hockey & Basketball)
Hamilton's Invaders
Baby Dolls
Electric Ovens
Steel Kitchen Appliances
Plastic Dishes
G.I. Joe
Typewriters
Wacky Windups
Pinball Machines
Liddle Kiddle Toys
Batman Toys
Talking Toys & Pull-String Toys
Stuffed Animals
Disney Toys (Mickey Mouse, Donald Duck, etc.)
Warner Brothers Toys (Bugs Bunny, Road Runner, Yosemite Sam, etc.)
Troll Dolls
Walking Dolls
Go-Go The Burro
Punch-Me Inflatable Punching Bags
Dennis the Menace Toys
Popeye Toys
Bozo the Clown Toys
Flintstones Toys
Electric Trains (Lionel)
Rag Dolls (Raggedy Ann & Andy)
Peanuts Toys (Snoopy & Charlie Brown)
Thingmaker
Electric Race Cars
Miniature Doll Houses
Wind-Up & Friction Powered Cars & Trucks
Pedal Cars & Trucks
Playskool Toys
Portable Phonographs
War Toys like Guns, Sword, Cannons & Tanks
LEGO Bricks & Playsets
Chatty Cathy
Little Miss Echo
Posy Pixies
Skipper
Tressy
Francie
Jack-in-the-Box
Johnny Speed Race Car
Image Projectors
Rocking Horses
Petal People
Hippity Hop Inflatable Ride-A-Ball
What board games did families play with in the 1960s? The most popular board games in the 1960s were:
Broadside
Battle-Cry Civil War
Summit
Troke
Stratego
Tip-It
Crazy Clock Game
Mouse Trap
Mosquito
BASH!
Hoopla
Flea Circus
Quija Board
Flipper Flips
Uncle Wiggly Game
Mary Poppins
Winnie the Pooh Game
Candy Land
Patty Duke Game
Skipper Game
King of the Hill
Twister
Game of Love
Avalanche
Operation
Leap Frog
Where's Willie?
Frantic Frogs
Smack-A-Roo
Animal Talk
U.N.C.L.E.
Thunderball
Kerplunk
Bible Game
Swap
Aggravation
Combat
Noah's Ark
PANIC!
Shenanigans
Bird Brain
Toys in 1964
It was the year of the monsters as grotesque, fanstastic and sinister figures showed up on toy counters and became and immediate hit. Made of plastic, they included old standbys such as Frankenstein's monster and Dracula and also strange new characters called "Weird-Ohs", "Rat and Bat Finks", "Drag Hags" and "Surfink" (a monster on a surfboard). They were used in games, jigsaw puzzles and even in liquid bath soap dispensers tagged to "Scare You Clean."
Predictably, the trend brought complaints from parents.
Dolls returned to the more conventional. The high-fashion doll, typified by Barbie, waned in popularity and as Christmas approached, was being supplanted by Skipper, billed as Barbie's little sister.
Electrically powered racing cars continued to cut into the popularity of the electric train. They even held a 100-lap Grand Prix at Wilkes-Barre, PA in July, with a full-size sports car as first prize.
Children all over the country were learning how to ride skateboards. 14-year-old Patrick Maley won the international yo-yo contest held at Disneyland.
G.I. Joe, which wasn't quite popular yet, was first released in 1964.
Toys in 1965
The popularity of skateboards continued to rise, nearing $100 million in sales. With more riders came more injuries. The California Medical Association called skateboards a "medical menace" and some towns passed ordinances regulating their usage.
Slot cars were growing in popularity. By mid 1965, about 2,000 "slot car centers" were open. The centers provided tracks on which the plastic cars could be raced and enthusiasts could compete for prizes.
Doll makers were ecstatic over the growing popularity of G.I. Joe. It was the first doll to catch on with boys since Raggedy Andy and was a huge sigh of relief to manufacturers desperately searching for that breakthrough.
Operation was first released in 1965.
Toys in 1966
The wild skateboard craze appeared to be dying out in 1966, as had hula hoops and other fads in earlier years. Interest in slot car racing remained high but had leveled off a bit.
Batman and secret agents invaded the toy field. There were Batman art toys, games, costumes, wheel toys, model kits and a Batman walkie-talkie. There were also Batman figures, airplanes, radios, hats, a dart launcher, and Gotham City, all on display at the 1966 Toy Fair in NYC.
There were not only more spy toys, but more toy spies. Various undercover agents were equipped with every known espionage device, such as secret printing putty.
Battery operated automobiles that run on a track or tubing were a popular addition to the toy industry.
The trend toward realism in dolls continued, with toy manufacturers introducing dolls whose facial expressions could be changed by moving an arm or a leg.
One of the most popular new games in 1966 was Twister. Which is still a great game to this day.
Pictures of 1960s Toys
CLICK IMAGE TO ENLARGE
1960s Toys Advertisements from Catalogs
CLICK IMAGE TO ENLARGE
More 1960s Toys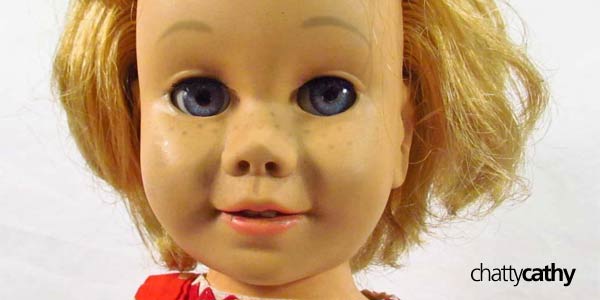 Chatty Cathy is a doll manufactured by the Mattel toy company from 1959 to 1965. The doll was first released in stores in 1960.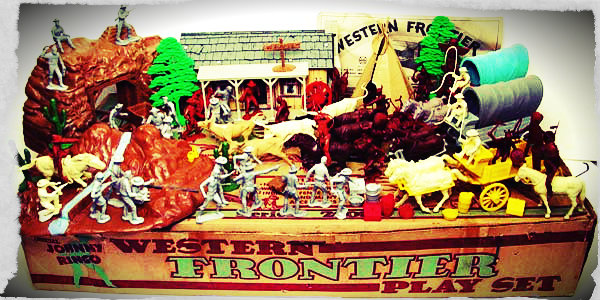 Johnny Ringo was a TV show that had a short run of just one year, but the Johnny Ringo Western Frontier playset is one of the most sought after collectibles on eBay.