The 1940s were the decade of the crooner. Such household names as Bing Crosby, Frank Sinatra and Perry Como all made a very good living in the decade.
Ella Fitzgerald and Louis Armstrong dominated the jazz scene. Click below to browse through the artists or the songs that made everyone swing!
People listened to music on the radio mostly, but phonograph players were just started to get affordable for the average family.
Did you know that some people had huge, car-battery sized batteries to power their radio for months on end because they didn't have electricity in their house yet?
Radio stations censored a lot of music that we enjoy listening to know that came out in the 1940s. And there was a boycott that made radio stations move almost entirely to talk format. It was a rough decade for the music industry indeed.
But there was so much great swing, jazz and everything in between. We're very happy we don't have to deal with censorship keeping us from the good stuff nowadays.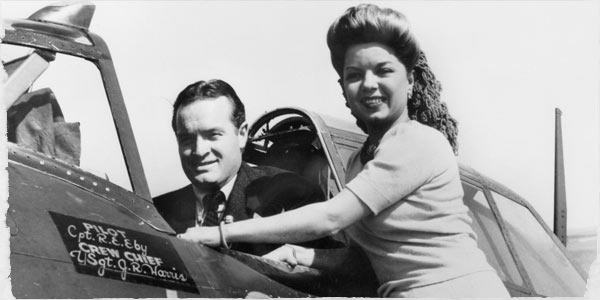 Songs from the 1940s are extremely romantic, sometimes funny and usually somehow connected back to home. Many Americans were away from home, at war, and loved listening to music that reminded them of home.
Bob Hope was also a huge star in the 1940s, frequently entertaining the troops overseas.
Like everything else, music in the 1940s was centered around the World War II.
There were several technological advances in recording and playback, however. Music lovers were treated with far superior fidelity than ever before.
Also, home phonograph prices dropped substantially, giving listeners the power to choose what they listened to, instead of giving full control to the local D.J.
Some other famous musical names from the 1940s include Perry Como, Benny Goodman, Frank Sinatra, Bing Crosby, The Andrews Sisters, Nat King Cole and many other legends.
Music in 1941
There was little doubt that the 1940s were witnessing a renaissance of music. The growing interest and faith in American music, along with the eagerness of large orchestras, opera companies and smaller ensembles to play native music encouraged production beyond any other single period in US history.
Unfortunately, popular music didn't share the same success as its classical counterparts. Radio's boycott of the ASCAP went into effect on January 1 and from then on all activity was political rather than musical.
Judged by sales of sheet music, the song of the year was a revival: Intermezzo. it was the only song to reach a total of half a million copies.
its nearest rival in popularity was the fox-trot version of Tchaikovsky Piano Concerto known as "Tonight We Love."
According to Variety, other popular songs in 1941 were:
Amapola
Daddy, Do You Care?
Hutsut Song
I Don't Want to Set the World On Fire
I Hear A Rhapsody
You and I
You Are My Sunshine
In the last few weeks of 1941 "The White Cliffs of Dover" suddenly developed into a huge hit and promised shortly to outperform all other songs in 1941.
An outbreak of war songs broke out with the declaration of more serious hostilities, but "God Bless America" held its own in the patriotic field.
Musical comedy enjoyed some success with Pal Joey, Let's Face It and Lady in the Dark.
Music in 1949
"Some Enchanted Evening," sung by Ezio Pinza in South Pacific, was the most popular song of the year, according to the Lucky Strike Hit Parade, which presented it for more than 20 successive weeks, heading the program 13 times.
Actually there were better songs than this in the Rodgers-Hammerstein score; three of them, "A Wonderful Guy," "Bali Ha'i" and "Younger Than Springtime," received adequate recognition from radio's high tribunal.
Unquestionably Kiss Me, Kate contained the best songs and music ever written by Cole Porter. "So in Love" appeared a dozen times on the Hit Parade and was definitely the most popular number in the show, although such songs as "The Life I Late Have Led," "Always True to You in My Fashion" and "Too Darn Hot" were also popular.
Miss Liberty, which pleased the public more than the critics, had two songs in the Hit Parade, "Just One Way to Say I Love You" and "Let's Take an Old-fashioned Walk"; but there were other numbers fully up to the Irving Berlin standard, including the plaintive "Homework."
The top song of 1948, "Buttons and Bows" held its own well into 1949, as did the two Loesser hits, "My Darling, My Darling" and "On a Slow Boat to China."
Most of the popular songs were definitely reminiscent of earlier music, particularly "Far Away Places" and "Cruising Down the River."
"Powder Your Face with Sunshine" had some individuality, but there was nothing particularly distinctive about "A Little Bird Told Me," "Again," "A Room Full of Roses," " You're Breaking My Heart," "That Lucky Old Sun," "Don't Cry Joe " and "I Can Dream, Can't I ?," all of which reached the top of the Lucky Strike list more than once.
The humorous "Baby, It's Cold Outside" was handicapped by radio censorship. Late in the year a line by Stephen Foster suggested the currently successful "Dear Hearts and Gentle People," and Christmas brought the year's real novelty in "Rudolph, the Red-Nosed Reindeer."