The early 1970s fashion scene was very similar to 1969, just a bit more flamboyant. It wouldn't be hyperbole to say that a fashion revolution occurred in the 1970s.
Polyester was the material of choice and bright colors were everywhere. Men and women alike were wearing very tight fitting pants and platform shoes. By 1973, most women were wearing high cut boots and low cut pants.
Early 1970s fashion was a fun era. It culminated some of the best elements of the 60s and perfected and/or exaggerated them. Some of the best clothing produced in the 1970s perfectly blended the mods with the hippies.
Just when it seemed pants couldn't flare any more (bell bottoms, anyone?), the flare was almost gone. By the late 1970s the pant suit, leisure suit and track suit was what the average person was sporting. Every woman had a cowl neck sweater in her closet and every man had a few striped v-neck velour shirts.
Tunics, culottes and robes were also very popular. Sometimes it's hard to tell which dresses were meant to be worn at home, and which ones were for a night on the town.
Chest hair, medallions, polyester, butterfly collars, bell bottoms, skin-tight t-shirts, sandals, leisure suits, flower patterned dress shirts, sideburns and, yes, tennis headbands.
There is one common theme throughout fashion in the 1970s: pants were tight fitting. And it is probably the first full decade in which women could be seen wearing pants in every walk of life.
It's also hard to miss the fact that color almost completely disappeared by 1979. Earth tones, grays, whites and blacks were back in full force, as people had apparently tired of the super bright tones of the early 1970s.
In-Depth 1970s Profiles
Fashion in 1970
Hemlines were the headlines in 1970. Across the fashion industry, designers dropped skirt lengths anywhere between the knee and ankle and called it the Midi Look or midi skirt. Either you midi'd or you didn't.
Miniskirt lovers picketed New York City shops that carried the new length. After years of building short skirted wardrobes, they weren't about to change now. Others thought the longer skirt aged them. Whatever the reason, the midi skirt was a debacle that sent the fashion industry spiraling downward.
The midi was slightly different than long skirts from the 1950s. It was slit and slashed, laced-up or zipped-up, strapped or wrapped to one side and sometimes buttoned down the front. It flattered the young and thin most, because it emphasized a small midriff, waist and hips. How the leg met the hem was its most critical feature.
Ponchos, gauchos and capes afforded a fashionable alternative to the midi. Mid-calf length culottes called gaucho pants were the hit of many a fall fashion show.
The Moroccan theme was big in 1970. Capes striped like bedspreads, along with folk-embroidered Hungarian peasant blouses gave fashion in 1970 a distinctly ethnic flavor.
Bags and purses were strapped tightly under the arm or worn in mailman fashion across the chest, much like they were in 2011.
Boots were sold in numbers never before seen. Every type of boot imaginable was sold, in all shapes, sizes and materials.
Pastels and vivid colors were much more subdued than in 1969. The midi came in somber shades like purple, grape, raisin, plum, murky green or indigo. Again, women didn't like the midi.
Bill Blass was elected to the Coty Hall of Fame in 1970.
Fashion in 1971
In 1971 there was a huge impasse between what designers made and what people wanted to wear. It seemed at times the two were fighting each other like siblings.
Designers declared the hemline would be at the knee in 1971, but the public had other plans. Skirts that grazed the ankle, that were intended to be evening gowns, were being worn out on the town. Another, more extreme, backlash were "hot pants", which had nothing to do with the so-called fashion world.
A taste for nostalgia brought back people's desire for nautical insignia and 1940s movie star glamour. Another trend that popped up among the wealthy was Chinese-inspired evening gowns.
Sporting a tailored look, young couples liked to dress in similar, if not identical clothing. A quick glance through a 1971 catalog backs this up, for it is hard to miss the countless pages of his & hers matching sets.
Yves Saint Laurent instigated the 1940s revival in his spring Paris collection that was widely panned by critics but embraced by young trendsetters.
Men's fashion started to shed the flamboyant styles of recent years, but they retained a sense of fun and freedom. Clothes were snugly fit, tailored and double knit. Plaid was a popular choice for a day at the office or on the farm and pants remained flared.
The fashion world was saddened by the passing of legendary designer, Gabrielle Bonheur Chanel, better known as "Coco," at age 87. Her rigorous discipline to the very end helped her maintain an unheard of 50+ years of relevancy and influence on the fashion world. She remains to this day one of the most important fashion designers in history.
Fashion in 1972
Fashion relaxed a bit in 1972, worrying less about hemlines and waistlines, shifting into the casual mood of sportswear for both daytime and evening styles.
According to designers, the busy modern woman wanted to look at ease, uncontrived, and certainly never obvious after years of self-consciousness. An important aspect of being fashionable in 1972 was not to look as if one had spent either too much time or money on clothes.
The sweater was a pivotal point of this effortless effect. It was the year's most important fashion ingredient, cropping up as a beach cover-up, the basis of city costumes, the bodice of haute-couture satin evening gowns.
After sweaters, a woman could choose between long or short dresses, skirts or pants, belted waists or no waists, bare halters or covered-up caftans. Such designers as Yves Saint Laurent showed most of their daytime styles at mid-knee level, but they included several mid-calf and ankle-length skirts.
Female delegates at the Democratic National Convention in Miami illustrated the variety of attire available to the American woman. They turned up in everything from floor-length dresses to faded blue jeans. Critics blamed designers for failing to provide fashion direction. Actually, the wide range of choices represented the cost-conscious consumer's triumph over the couturier.
The most successful designer of 1972 was Halston. His clothes, whisked up by such fashion leaders as Liza Minnelli and Jackie O, were elegant versions of established American classics — shirtwaist dresses, cashmere pullovers and cardigans, wrapped jackets and pants. So big was the influence of the unstudied, sportive American shapes on what women around the world wore in 1972, that experts claimed New York City, rather than Paris, was the fashion capital of the world.
The ease-is-of-the-essence fashion philosophy affected the way a garment met the body. After a decade of drawing clothes closer to the figure, designers began to let go. Snug-bodiced fashions were rivaled by a revival of the chemise, the blouson, caftans, smocks, tents, toppers, battle jackets, and baggier sweaters.
Jeans were very much in style in 1972 for both men and women.
Textures softened into cashmere, shetland, angora, lambswool, mohair, brushed-wool plaids, cuddly, lamblike acrylic piles, fluffy, long-haired furs.
Hushed hues and pastels served as further softening agents. Mauve, peach, apple-green, pink, yellow, and baby-blue tended to be used in all-of-a-tone costumes, such as a pink-shirt with a pink-striped sweater over a pink plaid skirt.
Natural and neutral shades of white, wheat, camel, and gray melted into one another in luxurious fabrics or connected sporty separates of nonchalance.
Accessories underlined the monotone scheme. Among the favorites were tortoise, ivory, amber, pewter, silver, braided-leather cubes, buttons strung together, whale and tiger teeth. But pearls were the most popular embellishment for ears, necklines, and wrists.
Brimmed cloche hats replaced knitted caps, little flat envelopes tried to oust the ever-present shoulder bags. Clogs, wedgies, cork-soled platforms, and chunky, high heels continued to alarm podiatrists. There was a tendency toward shorter hair styles for both men and women.
Men's Fashions were dominated by the gentlemanly ideal, as the wild prints and fancy sartorial treatments of recent years gave way to traditionally masculine materials and shapes. Bold plaids livened up sport jackets; rich, modulated tones in houndstooth checks, Donegal tweeds, and Prince-of-Wales plaids were used for business suits. Summer-weights revived such favorites as crinkly seersucker, khaki, and all-white Mark Twain-type "ice cream suits."
Other comebacks: beefy sweaters with more texture in shetland, mohair, Norwegian-type knit; and hefty woolens cut into stalwart stormcoats, battle jackets, peacoats, and lumberjack shirts. The buttoned-down shirt returned in 1972 with a more generously proportioned collar.
Ties turned to smaller, timeless motifs: stirrups, anchors, paisleys. The two-button, waist-and-shoulder-expressed construction reigned for jackets, but there was a drift back to pleated pants and boxy, raglan-sleeved coats with just-below-the-knee hems.
Men's footwear became more flamboyant. Men wore shoes with wild colors as thick platforms and 3-inch heels became popular with young and old alike.
Fashion in 1973
The key to fashion in 1973 was the knitting needle, as the sweater became the popular look on both sides of the ocean.
There were sweater coats, sweater dresses and even sweater suits. Many of them were trimmed with fur, especially fox. Floor-length sweaters came with or without sparkle. The chunky, shawl-collared, belted cardigan, often in brown and white, replaced 1972's shrink tops.
The new sentiment among designers was that the outfits had to work harder and longer and to be able to change with simple addition of a shirt, pants or accessory.
For the first time in decades, there was a significant shortage of raw materials and fabrics. The cost of synthetics such as vinyl and nylon rose as well. As a result, everyday designers kept things simple.
Popular fabrics & patterns in 1973 were tweeds, flannels, plaids, checks and stripes. Rust, peach, tangerine, copper, forest green, pistachio were popular colors.
Accessories were subdued. Golden chains, gold-button earrings and rhinestone clips were finding their way back into the wild after having been stashed away in favor of homemade jewelry for a few years.
Perhaps the biggest change in women's fashion in 1973 wasn't an article of clothing at all: it was her hair. A shorter, polished, shoulder-length page boy or a close crop with upturned bangs framing face were the hairstyles of the new. Shorter hair prompted a call for hats. A chic evening choice was the little black veiled hat, often accompanied by boas in fur or feathers.
Men's fashion was agreeable over aggressive. The trend leaned toward the inconspicuous and comfortable. Neutral colors and standard fabrics made up the majority of new men's clothing. A new fad — piping — showed up on blazers and suits. Pea jackets, baseball jackets and varsity jackets were the common man's choice on an active fall day.
Oscar de la Renta was inducted in the Coty Hall of Fame in 1973.
Fashion in 1974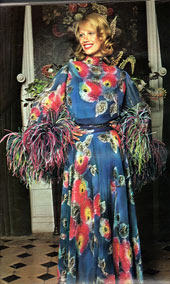 In 1974, fashion designers tried to change tight fitting, body hugging clothing styles into something a bit looser. Like, a lot looser.
The silhouette in 1974 was significantly different in this way. The Big Look (or The Droop, depending on your view), designers hoped, would sending customers back to the stores specifically for dresses.
After the midi skirt disaster, fashion designers were desperate for some good news. Many shops had shut due to poor sales, made worse by an ongoing recession.
Frankly, people were finding their trusty sweater, t-shirt and pair of jeans and they wore them nearly every day. This did not help the fashion industry prosper.
In fact, the t-shirt, once considered underwear only, was now being blazoned with slogans, sports teams and anything else you could imagine, making it one of the hottest fashion items worn by casual men and women alike.
Typical of The Big Look was a circular cape, tossed over a bulky sweater and shirt hanging around the knee. Coats were full and tentlike. Standouts were the steamer coat, raglan-sleeved, as well as cardigans or kimonos of dressing gown proportions with yokes, smockings and drop-shoulders.
Berets, muffling scarves and high-heeled, baggily crushed boots were essential in 1974. Leather belts, slender neck chains, delicate rhinestone ropes, lace-edged chiffon kerchiefs, silk flowers all proved to be worthy ornaments.
The wavering line between sportswear and tailored suits blurred further with the introduction of the leisure suit. While they were intended for the country, they appeared everywhere — just short of the office. Men still loved their flannel.
Geoffrey Beene and Halston were elected to the Coty Hall of Fame in 1974.
Fashion in 1975
Fashion in 1975 touched on everything from loose peasant garments to tailored blazer suits. Many of these outfits were made from quality fabrics like Harris tweed, wool flannel, cashmere, camel's hair, pure cotton and pure silk.
1975 fashion was not a time for major upheavals. New shapes leaned toward the body and their fullness was tamed. Calvin Klein's reefer coats and Yves Saint Laurent's tube dresses were in high demand.
Designers such as Geoffrey Beene also softened bulk by wrapping the waist and balancing smock-like shirts with slim skirts and straight-leg pants.
Skirts sported dressmaker details such as yokes, tucks, pleats, smocking, dirndl gathers, wraps, cargo pockets or ropes.
Layering added a rich look in 1975. Double blouses, multiple sweaters, pants under tunic dresses, jumpers over dresses, hoods under hats and shawls over everything. The triangular scarf was the ultimate layer.
Denim, the familiar blue-jeans material, moved into fashion respectability as young and old alike flocked to wear it in a variety of ways.
Old clothes, meticulously made of castoff finery, once the special domain of eccentrics, became the rage. Young people flocked to antique shops swooping up hand-me-down evening bags. Art Deco jewelry, smudgy-pink georgette dresses and the wispy undergarments of the 1930s.
A craze for khaki, olive-drab and workmen's clothes threatened to knock out jeans and t-shirts as America's favorite uniform.
The jumpsuit was a huge success in 1975. It came in hard-working fabrics like twill, drill, duck, baby-wale corduroy and seersucker. Uniform components included parachute pants, painter's pants, clam-diggers, culottes, butcher apron wraps, military fatigues pushed into combat boots, naval-inspired dresses and a whole battalion of epaulets, zip-up pockets and webbing belts.
Menswear came closer to translating the high European tailoring tradition into comfortable clothes. the so-called American suit was further modified to resemble the closer fitting European model. The new look, called the quasi-European suit, had slightly padded shoulders, higher arm holes, a more prominent waist suppression, open patch pockets and a light flare to both jacket and pants.
Geoffrey Beene received a Coty Award and Calvin Klein and Piero Dmitri were elected to the Hall of Fame.
Fashion in 1976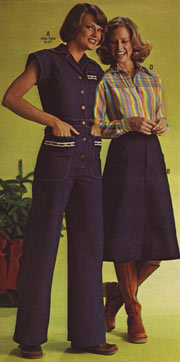 In 1976, the fashion split into two very different directions. One was the Parisian peasant style, which used capes, turbans, rich fabrics, glowing colors, billowing skirts and puffy sleeves.
The other was the clean-cut All-American look that borrowed stylings from classic sportswear.
The professional uniform of the year was a blazer, cowl-neck sweater and slimmed-down skirt. Bill Blass, Calvin Klein and Ralph Lauren all used tweeds, plaids, corduroys and flannels in tans, grays, browns and muted greens.
Pinstriped pant suits with bow-tied blouses became women's tuxedos at night. Pants were cuffed to blouse at the ankles, mid-calf or knees, depending on the height of the boot.
Braving the 1976 wilderness were woolly lumberjack shirts, hunter's red jackets, trapper's down-filled coats and earth-toned ponchos.
Menswear enjoyed unprecedented freedom as designers mixed styles, textures and colors like never before. The vest became more relevant again.
It wasn't uncommon to see a man at the office wearing a plaid jacket, a checkered vest and solid flannel pants.
Velvet jackets, cut like tuxedos, were worn over casual pants, giving a note of elegant informality for more formal evenings.
Fashion in 1977
In 1977, fashion took on a softer, looser attitude. Designers let clothes fall where they fell and instead chose to twist, tie and gather fabrics instead.
The importance of the soft textile in 1977 cannot be understated. In winter, almost all clothing was made of sensuous fibers such as chenille, challis, chamois, cashmere and mohair.
The baggy style wasn't popular with everyone. Women with good figures lamented not being able to show them off while those who were slightly heavier complained that loose clothes made them look even bigger.
That didn't stop design houses from running with the style, however. Gianni Versace and Giorgio Armani brought glamour and attention back to Italy with high fashion success. But the most wearable of the new fashions came from Calvin Klein and Bill Blass, whose drawstring tops perfectly complemented a full dirndl skirt.
Bold gold, shiny satin and bareness of skin made up for the lack of body hugging clothing. Shirts were left unbuttoned, sleeves were rolled up and tops were often lacy, see-through and strapless.
The scarf was the accessory of the year, but it was not used to cover the hair. People let their hair grow naturally — tousled, curly, frizzy or straight. Women would adorn their heads with colorful flowers or golden combs.
Men's shirts had smaller collars in 1977 and quilted-down ski vests were worn over almost anything, anywhere. It was fashionable to fasten only the lowest button on a double-breasted suit.
Ralph Lauren was elected to the Coty Hall of Fame in 1977.
Fashion in 1978
Fashion took a dramatic turn midway through 1978. The casually loose, free-flowing silhouettes suddenly trimmed down. The tearing away of volume meant a clearer definition of the figure.
Broad shoulders loomed above belted waists, hip-rounding skirts and pegged pants. The shape was that of an upside-down triangle. Shoulder pads were resurrected as were the tailored suits and tilted hats of the 1940s. Sultry black worn with elaborately rolled upswept hairdos, silver-fox boas, braceleted gloves and spike-heeled sandals summed up the mood of nostalgic glamour.
The "Retro Look" was best pulled off with a touch of humor by young people dressed for disco dancing.
Also revived in 1978 were strapless tops, bust darts, midriff seams, cummerbunds, waist cinchers, obi wraps as designers zoomed in on the body.
Many retailers were cool on the new curvier clothes, but the fashion industry was convinced that the narrow, sensuous silhouette was the next direction because of womens' renewed interest in exercise.
In Italy, Giorgio Armani and Gianni Versace sent models marching down runways in militaristic, bold-shouldered outfits of leather and khaki. The fervent customer acceptance of pencil-slim separates by Perry Ellis and Calvin Klein pointed the way back to the body.
A new selection of handsome coats included reefers, reversibles and three-quarter or seven-eights length garments tailored in melton, alpaca and tweed.
Textures were mixed with reckless abandon — the more the merrier. Several neutral shades were jolted with an electric streak of color. Gold chiffons, whipser-weight lames, sequins and bugle beads added dazzle.
The feeling was more relaxed for men. Tweeds dominated suits, jackets and coats. The raglan-sleeve coat gained new adherence as opposed to the fitted coat. Trousers were much less flared than before and in some cases not flared at all. Lapels, ties and shirt collars narrowed. The single most important men's accessory was the scarf worn outside the jacket.
Fashion in 1979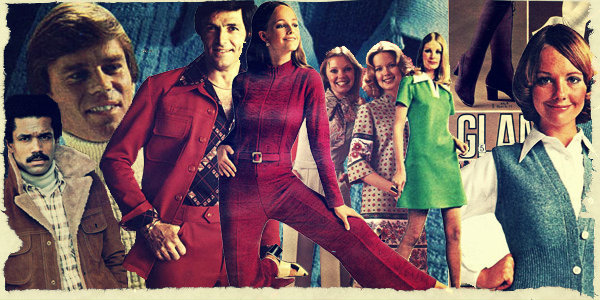 In 1979 the tailored suit dominated daytime and evening wear. Quickly vanished had the days of casual sportswear, which had been so popular throughout the 1970s. People were tired of the casual look and had gotten back into businesswear. By 1979, fashion that was known as "seventies" fashion had fully transformed into what people now would think of as eighties fashion. As the eighties approached, the fashion world seemed to have gotten a head start.
With an increased emphasis on formality, blazers and pants skirts became much more easily mixed and matched. The trend of heavily padded shoulders first hit the scene in 1978, which borrowed and somewhat exaggerated the 1940s look, had surged more visibly into the mainstream in 1979.
The eccentricity that highlighted early 1979 gave way to a more powerful and respectable look by fall.
Fashion designers had to promptly react to the fact that there were an unprecedented number of women in the workforce. Design houses had gotten used to spending the bulk of their time creating clothing for women who were at home or at parties, not in the office. But times were certainly changing and the most successful designers saw this opportunity for a new market, they adapted, and capitalized.
The Executive Woman owned at least one tailored suit. The jacket could be either short and shapely or long and lean. The straight skirt was knee-length and could possibly have a front or side slit that put a subtle emphasis on the legs. To offset the more traditionally masculine look of "business suit style", women were experimenting with hats, high heels, ruffles that peaked out from the jacket and large jewelry to keep a confident, yet feminine, look in tact.
Beyond the suit, the novelty sweater was the second most important item in a 1979 wardrobe. Thick, hand-knit styles popularized by Perry Ellis, Geoffrey Beene and Ralph Lauren were flying off the shelves. Sweaters were decorated with a wide array of sequins, ribbon trims and other designs, sometimes asymmetrical, to modernize the look of classic angora, alpaca, wool and cashmere. Women's sweaters often had metallic thread woven into natural yarns.
The most popular color combinations in 1979 were red and black, black and white, and white and red. Deep dark grays (think charcoal) were also popular, as were earth tones in about any combination you can imagine. If a splash of color was desired, some derivative of purple was usually the preferred choice.
For men, Giorgio Armani was hailed as the most creative new designer. He displayed courage when trying out bold new colors that had not been seen in menswear in years, if ever.
Physical fitness was important to the general public in 1979, and thus dictated trimmer waists, slimmer suits and smaller shirt collars and ties. In the south, mid-west and west, the "Western Look" was still going strong. Flannel shirts sold extremely well.
Halston and Calvin Klein created a stir by refusing to accept their Coty Awards. Mary McFadden was inducted into the Hall of Fame. Special awards were given to Barry Kieselstein-Cord for jewelry, to Gil Truedsson for men's shoes and Conrad Bell for men's furs.
Women's Fashion Pictures, 1970-1974
CLICK IMAGE TO ENLARGE
Women's Fashion Pictures, 1975-1979
CLICK IMAGE TO ENLARGE
Men's Fashion Pictures, 1970-1974
CLICK IMAGE TO ENLARGE
Men's Fashion Pictures, 1975-1979
CLICK IMAGE TO ENLARGE