Fashion in the 1940s was a good mix of comfort and glamour. There were specific outfits that were meant for specific times of the day. Some of their designs look downright modern even by today's standards.
Men were still pretty dressed up. Suits, ties and hats were commonplace in public. Women wore dresses and skirts — they still didn't wear slacks yet.
Another thing women ALWAYS wore: gloves. Preferably a pair that matches your outfit. Fur was very popular, as were animal skins. Crocodile purses, wombat collars, lambskin lining, and leather sleeves — no animal was off limits.
Clothes in the 1940s were very bright and colorful. The brighter the better. Women's shoes were often one of three popular color choices: red, white or blue.
What did people wear in the 1940s? Take a deeper look into 1940s fashion by looking at pictures and reading our yearly timeline below.

In-Depth 1940s Fashion Profiles
Fashion in 1941
For her easy hours she wanted a really beautiful gown — one that made her feel like Lynn Fontanne. A gown in star sapphire blue, purple or black, with swirls of gilt and coral at the deep slashed throat is a perfect example of something a woman would relax in in 1941.
If she breakfasted in bed, she wanted a bed-jacket to match her gown. Or she would wear a cozy quilted robe with a matching gown. Nosegay print in rayon crepe; white or blue with red ric-rac, maize with green — or pink with blue.
When she plays cards in the evening she wears a pure cashmere cardigan in maize, gray, blue, natural or purple.
If she likes jewelry she might wear a pin with an exquisite basketweave bowknot in gold plate with rhinestones. She would like earrings with golden swirls with ruby and rhinestone bands. He favorite bracelet is a rhinestone bracelet in a sunburst-and-knot design.
She will also need some Edelweiss doe-skin gloves, a smart umbrella and a handbag — soft one. One that is black suede or claf, gathered on a frame and for extra dash — she'll want her name in golden script. And for her tweeds, nothing could be better than crocodile skins from the Argentine.
At ease, at home, the man relaxes with his pipe and the paper in a chevron-weave smoking jacket. It's made of spun rayon and wool in darker, more subdued colors. At his feet his wore "Freelancers" — bootmaker finish moccasins.
In 1941 they called scarfs "mufflers" and everyone wore one. They were usually in soft Scotch cashmere with a plaid pattern. Garters were a hot items as well — keeping those wide-ribbed brushed wool socks up.
And speaking of keeping things up, he needed black trimmed rayon moire suspenders complete with monogram.
When he's out he wears a capeskin jacket, or a pure cashmere pullover with crew or V-neck. Over the sweater he wore a "Huntsman" jacket with Indian Tan soft suede leather and a comfortable bi-swing back.
Back to the lady. When she goes out she wants to wear a honey-smooth dinner jacket, with it lapels and cuffs encrusted with glittering "jewels."
But what did she smell like? She had all kinds of perfumes to choose from: Charbert's Amber, Houbigant's Chantilly, D-Orsay's Le Dandy, Corday's Jet, Bourjois' Mais Oui, Suzanne's Tout de Suite and Arden's Blue Grass were just some of the popular perfumes at the time.
But if he's in the mood to get really fancy, he would wear an opera hat, white chamois gloves, silk scarf (white and black with black fringe or all-white) that's, of course, monogrammed.
How about a trip to the big game? It's gonna be cold! He needs a waterproofed cotton gabardine coat, lined and collared in lamb. Waterproofed boots with a lining of warm electrified sheepskin.
For all-weather clothes, he wants a lightweight raincoat in high-count cotton broadcloth, treated with DuPont water repellent Zelan process.
For black tie nights, he wore a shirt with attached collar and French cuffs, with gold plated cufflinks, matched to its pique pleated bosom.
An eighteen year-old guy thinks his poplin jacket is pretty special. The pure wool alpaca lining zips out and makes a separate sleeveless vest. He also loved his ulster, complete with wombat fur lined collar and the sleeves are leather lined.
An eighteen year-old girl loved her figure cutting outfit with its bright red and green plaid skirt and matching stocking cap. And for her trim little sweater in jacquard knit, all pure wool.
The college girl wore a stocking cap made of hand-knit virgin wool with a roll-neck jerkin. She loved those goofy elbow mittens, to echo her knee-high hand-loomed socks. All cable-stitched in fireman red or white.
She wore those frisky boots called "Mounties" for her rustic roadwork and general campus traffic. Complete with a knapsack muff in safari or beaver brown mouton lamb. With purse space inside, the muff is a perfect spice for her off-campus visit.
Practically required equipment for the gal on the move was an imported Shetland wool sweater in pink, blue, yellow or white. And she has a HUGE collection of Argyle socks.
Fashion in 1943
Fashion in 1943 began to show momentum of its own, an honest freedom from the great tradition of Paris on which it had leaned so heavily, for so long. Clothes were at once less cautious and less tricky. Still marked by the simplicity that wartime fabric shortages and the wartime work and psychology of women demanded, the simplicity was tempered by inventiveness of cut, a genuine suppleness of line.
Two very distinct silhouettes emerged over the year. One was tubular, slim, reedy, exemplified in straight chemise dresses cinched in at the waist by belt, not fit; in knitted dresses that pulled on over the figure like knee-length sweaters.
The other silhouette was chunky, bulky, giving the effect of fullness without gathers robust boxcoats in wool or fur, or wool lined in fur; wool dresses cut with the generosity of officers' greatcoats, then decisively belted in.
With either silhouette, the look of the head was decidedly neat and small, the hair folded up off the ears and moored on top of the head, netted neatly at the back of the neck, or twisted in tight neat braids.
Hats fitted close to the skull were hot. Little felt caps, coifs bound tight around the hairline, wide bands of material (called "curvettes") worn over the top of the head and tied under the hair in back with strings of felt or velvet ribbon. This curvette was the most popular headpiece (it could scarcely be called a hat) of the young. It was seen in every material: felt, fur, crocheted wool flecked with colored sequins for the evening. Many secured their hair in simple snoods of veiling anchored on the head by a band of ribbon.
Suits were still the most popular single fashion.
The straight, spare skirt was broken across the front by soft trouser pleats, and a new hike-back skirt appeared still straight in front, but hiked up slightly in back to make it swing out gracefully behind. The suit jacket grew shorter and niftier.
Three jackets in particular marked a development:
1.) the short, fitted jacket, nipped in snugly at the waist, slightly flared out over the hipbones;
2.) the bolero, fitted close to the lines of the figure after the authentic Spanish fashion;
3.) the box jacket, extremely young and casual, its squared-off lines accentuating the slimness of the skirt.
Long coats adapted from officers' greatcoats, and short coats adapted from seamen's jackets, were seen everywhere practical, dashing, adaptable; but it was the fur-lined coat, launched in the autumn, that became the big news of winter. Simple tweed reefers, loose box coats, slim mid-length tuxedo coats all wore fur linings.
Even the raincoat made a welcome fur-lined appearance, giving women an opportunity to be warm in any weather.
The younger generation made almost a uniform of the pinafore or jumper dress, perfect in cottons for summer; and in gray flannel, checked tweed, or bright wool jersey a wonderful campus costume worn with any of many shirts and blouses.
A few of the more daring began to couple the pinafore with an adaptation of the ballet dancer's leotard: waist-length tights and a separate crew-neck shirt of striped or figured wool jersey. This basic outfit dispensed with stockings and most underclothing, and over it a pinafore or simple wrap-on skirt completed a whole costume.
After several years of covered-up necklines for both day and evening, decolletage came back in fashion. It was first seen during the summer in gingham beach dresses with shoulder-strap tops, and in printed silk town dresses with matching jackets to cover their backless, sleeveless nakedness on the street.
By winter, 1943, the covered-up, short-skirted dinner dress of 1942 had become a full-fledged, decollete evening dress: short black slipper satin dresses with ribbons of satin over bare shoulders; halter tops of white satin and sequins barbarically strapping naked backs above simple short black crepe skirts; short black crepe dresses with deep oval decolletage and tiny cap sleeves dangerously edged in black lace.
The deep oval decolletage with its little cap sleeves proved so becoming to so many women, and such a relief from high-neck, long-sleeve fashions that it spread to clothes of every description.
Both the oval and the halter neckline were uppermost also in a new genre of play dress for the south. A casual, feminine type of dress, made in coarse colorful cottons from Mexico and Guatemala, that threatened to supplant the shirtwaist dress, to banish the ubiquitous slacks from the beach forever.
Fashion in 1945
U.S. fashion designers displayed remarkable creativity when using the limited amount of textiles allotted to them by the government. The rounded line replaced angles, which was the primary means of avoiding boring designs.
At the beginning of 1945, the roundness was first achieved by pulling the waist tight, emphasizing fullness above and below the waistline. Eventually the round look took every costume. Often the only tight parts of an outfits were at the neck, waist and wrists.
Suit jackets had round collars and round-cut hemlines, while suit skirts belled out in front. The Canadienne, a French twist on the coat of a Canadian soldier, was one of the year's biggest fashion hits.
Evening dresses often came with farthingales to make hips seem larger and the waist thinner.
The cholo was hugely popular on beaches in 1945. It was worn over top of the swimsuit.
The trend of wearing "separates" continued to grow. Shirts were ready to wear, came in a wide variety of styles and mixed well with skirts.
A few horseblanket skirts appeared among the younger crowd. These unique skirts were made of plaid wool horseblankets, bound with black braid and fastened with horseblanket buckles.
Gold neckbands, African-inspired metal rings and gold chains were wrapped around the neck and wrists.Buttons were brassy and belt buckles shined like a cowboy's saddle.
Due to the absolute necessity of belts in the wardrobe, manufactures began producing more inventive belt styles than had even been seen before. Some were wide burnished bands of leather and others were cut to fit the waistline.
Women were particularly fond of ballet slippers in 1945. They came in all colors: plaid, black, pink — you name it — and were worn with everything from skirts to dresses to dancing tights.
It's hard to deny that as 1945 progressed, the fashion world took on a much more relaxed and peaceful tone. Like a huge sigh of relief. Colors lightened and fancy fabrics slowly came back. European designers didn't have the worry of a war in their backyard and, with the end of World War II, people felt like it was OK to care about something as trivial as fashion again. It certainly had been a while.
Fashion in 1946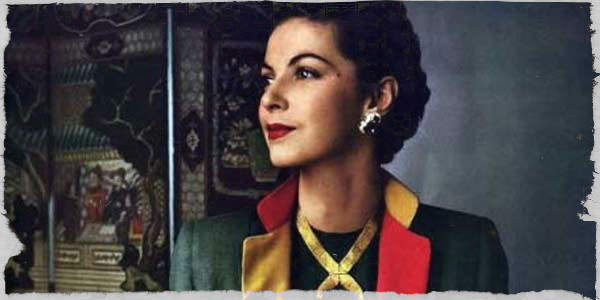 Femininity was in full swing in 1946, After long, wartorn years of wearing suits, women turned to dresses again.
The curves that were so popular in 1945 were replaced by a more natural look. The shoulders and bosom were much more exposed this year, but never in a flamboyant way.
Even though Paris was short on just about everything but talent, designers did their best to keep their position as the fashion capital of the world.
An asymmetrical look was important in 1946. Long evening skirts swayed to one side. Dinner dresses appeared with just one shoulder strap. It was a very flattering look to the female figure.
Two popular suits, the cutaway suit and the bellhop suit, were very successful for designers. While not overly feminine, they still had a distinct look from man-tailored suits, and were exactly what women were looking for.
The Kiltie, a short pleated skirt which came in varied lengths, was a vital part of the playtime wardrobe.
With the end of the war, designers were finally able to dip into their array of beautiful fabrics again. Fine Irish linens returned and were used for simple things like day dresses, or for extravagant lace.
Embroidery was seen in almost every form: passementerie, jet beading, silk tassels, ball-fringe and more. Colors were delicate, pale blues and pinks, pale yellows and violet, were common color combinations.
Hats were trimmed with fantastic feathers. The tricorne, bicorne and tiny pillbox were popular hat shapes.
The ankle-length evening dress eclipsed the picture-skirted ball gowns in importance. Shoulders were covered by tiny boleros. Flowing capes draped over day dresses and evening gowns alike. One extravagant wrap was a greatcoat cut like a cape, lined with seal.
The feminine look was certainly aided by the fact that women could buy nylon stockings again. Also, with the rising of the hemline came a new focus on shoes.
Shoes were designed with grace. Gentle arches, high heels and ankle straps all gave the foot a renewed appeal.
Fashion in 1948
The new look, which had blossomed, billowed and exploded the point of near absurdity, finally collapsed. Clothes were pared down to create a tight fitting, spare look. It was the total opposite of what had been worn for the last three years.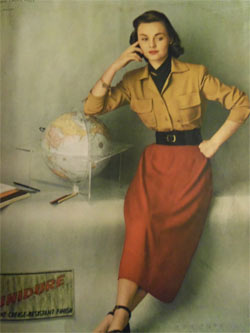 Jackets were short and rib-tight. Skirts were straight in the front and sides, with all fullness drawn to the back. The tent coat disappeared, replaced by the belted greatcoat or the fitted coat with small shoulder capes.
Women who couldn't afford to buy an entirely new wardrobe would pull their loose fitting clothing tighter or just cut them smaller.
The Belt of the Year in 1948 was the dog leash, a thin, rounded and made in a variety of colors and materials. Handbags shrank in size and the extravagant jewelry that had been so popular over the past few years was toned down to smaller pieces.
Gloves were wrist length, scarves were short and even the hats were small.
Oliver Twist waistcoats suddenly appeared in every material and color imaginable, but especially of suede and velvet. Stoles became popular again, made of tweed, wool, jersey, and fur.
A renewed focus on the "going away look" placed more importance on the back. As such, 1948 fashions are markedly more embellished in the back than 1947 designs.
The lampshade dress was perfected in 1948. The lampshade dress fit very tightly from shoulder to mid-thigh, where it flared out intensely. It was intended for late afternoon and evening wear.
Patent leather made a comeback in 1948 as well, especially in bags and belts.
Fashion in 1949
Spring of 1949 went down in fashion history as the flying panel period. In the previous autumn Balenciaga had shown a fitted suit with narrow skirt, and a wide separate back panel. This original method of achieving a slim look combined with becoming movement made such an impression that the Paris spring collections were full of developments of this flying panel theme.
There were side panels, back and front panels, all-round strip panels like maypole ribbons. Sometimes a three-step hem level was given by panels both longer and shorter than the skirt. The skirt itself was always skin-tight.
Another fashion detail which grew to such proportions as to affect the silhouette was the pocket. Breast-high pockets, funnel-shaped, had flaps pointed and stiffened like calla lily petals to stand up above shoulder level. In some evening dresses the entire bodice consisted of twin pockets. Pouch pockets and huge flap pockets, placed far to the side, widened
the hips.
The spring and summer also saw a new low level in daytime necklines. Even simple day dresses had necklines which plunged narrowly almost to the waist. Late-day dresses were apt to have immensely wide deep necklines.
Coats grew collars which rose high at the back, then turned down in a sloping line to become miniature capes. There were some fitted, bell-skirted coats, but the pyramid coat, sloping out from neck to hem, was the prevailing line.
Urchin hair cut and petulant earrings a distinctive fashion style in 1949.
Christian Dior showed the first short-and-long evening dress, spiraling from above the knee to train length. This 1949 fashion trend is shown by a sheath evening dress in black wool, slit above knee at back and with grosgrain panels trailing to the ground and the three-step hem levels caused by varied length panels were the forerunners of a whole crop of uneven hems in the autumn collections.
The later the hour, the more skirt lengths wavered. By day the general level had risen again to 14 or 15 inches from the ground, sometimes rising further at a wrap-around point, or slit for walking freedom. Late-day and evening skirt lengths; however, were extremely erratic.
The floor-length crinoline skirts, were kept for debutante and ball dresses. A new evening dress line was widely draped at the hips, narrowed to the ankle and then considerably slit.
Newest of all for Europe (but already familiar to America) were the strapless evening dresses in rich fabrics with street-length skirts: a few full, but the majority slim sheaths the 1920's all over again, except that these dresses were invariably belted, in contrast to the unbroken line of that earlier period.
Dior's ultra-short sheath, with a huge hip-swathe trailing the floor, was the most dramatic of a whole range of models which achieved short-and-long hemlines by panels, wrap-around swathing or slanting overskirts.
Kerchief-pointed skirts, wavering between knee and ballet length, were another aspect of hem-line uncertainty and another reminder of the '20s also recalled by the ever receding length of hair.
The short hair of late 1948 was still long enough to curl out like a drake's tail at the nape but late 1949 saw actually shingled heads and that variant, the gamine hair cut, reputedly begun by mannequins fretting their short hair unevenly with razor blades but soon developed through more orthodox means by the hairdressers.
Of course, this short hair went along with head-clasping hats. Most of these were small skull-caps, called "beanies," cloches, berets, miniature toques and helmets. There were however, a few large hats, still with nothing at the back to impede the high collars but with wide side-to-side brims or jutting shovel brims heralding, perhaps, a forward movement in hats to come.
The last months of 1949 saw the beginning of several important trends. One was again due to Dior: a dropped, markedly extended shoulder line the first sign of an important shoulder treatment since the removal of square padding left shoulders naturally rounded.
These new shoulders were still sloped and unpadded but half-way between shoulder and elbow Dior attached a gathered flounce, often buttoned, sometimes lined with fur, so that it stood out.
Another trend was the molded body-line, interrupted by sharp-angled shapes in collars, cuffs and stiffened hip draperies. This contrast of soft and sharp was achieved by using soft fabrics and stiffening them with a crisp lining at strategic
points.
Skirts in general narrowed as the year went on.
There was a marked tendency towards asymmetry in clothes of all types. One rever would be longer than the other; a peplum would spring from the hip at one side only; a line of buttons (and buttons were everywhere) would march down one side of a bodice or skirt; necklines were cut to one side; evening dresses had one shoulder strap.
Colors continued dark or neutral. A whole range of "charcoal" colors  as if black had been mixed with them, appeared. There was much beige and grey. Blue, petrol and thunder blue and royal blue, returned, especially with black.
Navy blue was chosen for winter and for evening, and other colors particularly favored were dark greens, many browns and clear geranium reds.
Long gloves went out to meet the three-quarter and elbow-length sleeves. In the evening they rose to shoulder level; were smartest in black glace kid. Leather belts pulled in every waist on suits, day dresses, evening dresses. Court shoes and naked sandals (with covered toes and heels) divided the honors.
Colored shoes were seen in shades of ivy leaf green, pewter, blonde, bronze and dark red. Yards of pearls circled necks and dropped into deep necklines. Huge chandelier earrings swung to the shoulders piquant contrast to the ragged gamine hair cut.
Nylon lingerie appeared in sufficient quantities to be on display instead of only under the counter. Corsets in deep blue and other unconventional colors were a welcome proof that better supplies were making fashion experiments possible.
Realistically to meet their customers' shrinking budgets a number of couture houses in Paris and London launched or expanded boutiques, little shops selling accessories and more moderately priced simple clothes, ready-to-wear, or needing only one fitting.
Men's Fashions
In the men's fashion field, 1949 saw the death of the exaggerated drape jacket, which hung loosely from the shoulders with hardly any indentation at the waist-line. "Drape" was a style which originated in England at the end of the 19th century and gave an illusion of broader shoulders and deeper chest.
After World War II it returned to England from America in such exaggerated forms that the style leaders at last decided that it no longer had a place in men's fashions.
1940s Fashion Pictures
CLICK IMAGE TO ENLARGE