1980s fashion can be commended for its creativity. Some fashion designers abandoned history, some borrowed from it, while others tried to design the future. Designers abandoned all convention — and their creations were interesting to say the least.
The early 80s were somewhat subdued in color, where we see a lot browns and tans and oranges. Blocky shapes were everywhere and dressing like a tennis player was the cool thing to do.
Velour was hot and velvet was even hotter. For both men and women, the waistline was a little high.
But let's face it, early 1980s fashion was very similar to the late 1970s. In 1983 there was a slight 1950s-style throwback, especially in women's dresses.
By the mid-80s, pop music stars like Cyndi Lauper were ushering in an entirely new style — one that many people associate with the 1980s to this day.
Bright colored accessories like sunglasses, bangles and hoop earrings were a necessity. Teased hair, loud makeup and neon were an important part of this style. This style was obviously more popular with the younger crowd.
But that didn't mean "regular" women in the 1980s couldn't have fun. It was an exceptionally flexible time when a woman could wear skin-tight cotton stirrup pants with leggings and a giant turtleneck sweater one day — and parachute pants with a small v-neck top and a high-waist belt the next.
By the late 80s, Nike had grown into one of the most profitable clothing companies in the world. Like Coke vs. Pepsi, Reebok vs. Nike was the athletic wear battle of the decade. With the help of Michael Jordan, Nike won the war. In 1988, every kid had to have a pair of Air Jordans and a Chicago Bulls baseball cap.
If you ever hear someone talk about "Cosby sweaters", they are referring to sweaters that were most popular in 1989. By then, women's clothing had gotten considerably more baggy as women clamored for styles that hearkened back to a more conservative time.
The best example of late-1980s for boys is Zack Morris (Mark-Paul Gosselaar) from Saved by the Bell. One look at a 1989 catalog feels like a glimpse into the troublemaking teen's bedroom floor.
In-Depth 1980s Fashion Profiles
Fashion in 1980
Women's clothing in 1980 ran the gamut from conservative to opulent fantasy. Many designers reached back in history for inspiration. The looked to the Middle Ages, the Renaissance, the Victorian era and even the Peruvian Indians for something "new." A few avant-garde designers took their cues from futurism and designed clothes that looked like uniforms for space travel.
1980 witnessed a revival of the classic "preppie" look that began in New England prep schools in the 40s and 50s.
China saw its first American fashion show in 1980, when Halston presented his large collection. Chinese reactions ranged from polite admiration to outright dismay.
Designers did what they could to try to please women. They opted for choice. Hemlines bounced up and down and there was no prescribed length — day or night. Shapes ranged from slim to extremely full and blousons returned.
Velvet was popular around the clock and women wore lace with tweeds and leather. Clothes could be made of any color, with emphasis on blocks and asymmetrical bands of two or more colors.
Men's dressing styles changed very little in 1980. One noticeable development for men's fashion was that it was becoming more acceptable for men to wear sport coats and slacks to events that previously required a suit.
Fashion in 1981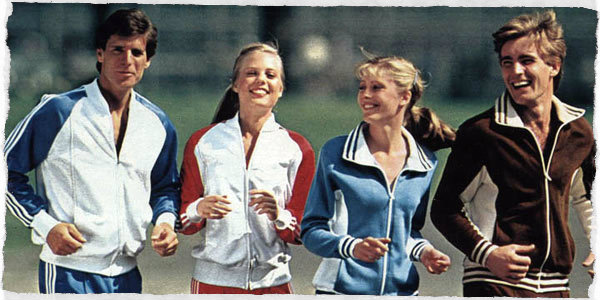 The rule in 1981 was a lack of rules. Hemline length was now completely up to the wearer's preferences. Some women wanted short, some wanted long, but most ended up somewhere in the middle.
Designers got extremely inventive with pants. Armani, Valentino and other introduced creative shapes like balloon pants, breeches, Bermuda shorts and styles that were puffy around the hips and taped around the ankles.
These styles were more popular in Europe than in the U.S., where women continued their support of culottes. These culottes were varied in design, with some resembling skirts, while others looked like pants.
Rising prices led to the rise in appeal to multi-purpose clothing. People wanted to wear their work pants around the house and vice versa.
Gold, copper, brass and other metals appeared on blouses and skirts. Accessories such as handbags, shoes and belts sparkled. Leather was also quite popular in 1981, with new processes making some leather as soft as silk.
Fashion in 1982
Fashion, traditionally the province of rich and leisured women, subtly changed its focus in 1982. The most successful styles were moderately subdued, in durable fabrics that required little upkeep and in quiet, basic colors.
There were two main reasons for this development. 1.) The worldwide recession put extravagant clothes out of reach for a good portion of the population and 2.) a growing number of women continued to join the workforce.
With more women moving in executive roles in the workplace, the demand for business suits increased.
Perry Ellis, then one of the "rising stars" of fashion, was successful with his near-ankle lengths. Bill Blass and Adolfo — favorites of Nancy Reagan — kept their hemlines around the knee. Calvin Klein and Ralph Lauren both favored calf-length clothes.
In 1982, sportswear is adapting well to everyday contemporary needs.
Donna Karan and Louis Dell'Olio are inducted into the Coty Hall of Fame. Feathers replaced beads and sequins as the latest extravagance.
Fashion in 1983
Japanese designers dominated the fashion world in 1983. Featuring the likes of Yohji Yamamoto, Kansai, Rei Kawakubo and Mitsuhiro Matsuda — unknowns in the western world up to that point — the formless, dark elegant styles influenced designers around the globe.
The new style was innovative in its approach. Clothes were cut so full that there was no need for sizes. One size for everyone. There was no attempt to define a figure and their colors were more subdued. This loose-fitting philosophy encroached in all types of clothing, including American sportswear, which had became noticeably less form-fitting.
Resort clothing, also known as summerwear, was quite popular in 1983. Light-colored slacks and Hawaiian shirts were a common leisure outfit.
Basketball shoes and athletic-licensed apparel was extremely popular. Everywhere you looked you saw at least one person wearing a t-shirt emblazoned with the emblem of their favorite team. Nike was preparing to make its move as a major player in the fashion industry.
T-shirts were probably the most popular casual piece of clothing in 1983. Sleeves were short, the fabric was typically a super-thin, cotton-poly blend and the shirts were tight-fitting (but getting a little bigger) Many t-shirts had funny or crude sayings on them. The decrease in the cost of clothing manufacturing meant that there were more t-shirt designs available than ever before.
Denim jeans were hugely popular and corduroy also enjoyed some success. Popular pants manufacturers included Lee, Levi's, Wrangler, among many others.
Fashion in 1984
In 1984, women's fashion was dominated by what was at the time known as menswear. A typical outfit would consist of a sports jacket, trousers and a big overcoat. Many woman completed the look by cutting their hair short. It was bold, risky, and very much in style.
Giorgio Armani could be called the father of this new look, as his Fall 1984 collection ushered it into the public eye. It was such a good year for Armani he won the Golden Eye Award from the international fashion press. The boyish look wasn't just in Italy however, it was showing up in French and British catalogs as well.
The masculine look was adopted by all the major American manufacturers as well. The menswear concept offered a clean, simple way for women to wear the same clothes in their professional lives as their personal ones.
Separates were very important. A sweater could be swapped for a blouse; jackets could be worn with skirts or pants and large overcoats could on top of anything.
Of course, a counter-trend developed. Some women rejected the new look and instead opted for very tight clothing that left little to the imagination.
By the fall of 1984, searing hot colors like pink, chartreuse and citron yellow began to appear in dresses, suits and coats.
London, which had dominated the youth movement in the 1960s, was staging a comeback. Zandra Rhodes, Jean Muir, Katharine Hamnett, Body Map and Jasper Conran were showing up in American stores alongside fashions from Paris and Milan. London was back.
Adrienne Vittadini won the award for women's fashion while Andrew Fezza won the men's category. Special awards were given to M & J Savitt for jewelry.
Fashion in 1985
Fashion in 1985 was so wide-ranging it's almost impossible to cover it all in a few paragraphs. To boil it down to its essence, the fashion world had four major hubs: Paris, Milan, London and New York City. The style you liked dictated which city you were buying your designs from. All four were quite different from each other. The only real constant was a wide shoulder. Everything else, color, fabric, cut, was fair game.
In Paris, the top designers were Yves Saint Laurent, Karl Lagerfeld (Chanel), Hubert de Givenchy and Emanuel Ungaro. Italy featured top designers Valentino and Giorgio Armani. The top American designers in 1985 were Geoffrey Beene and James Galanos. Calvin Klein, Ralph Lauren, and Anne Klein set the tone for sportswear, simplifying their styles to achieve a more modern look. London was proud of successful newcomers Betty Jackson and Sheridan Barnett.
But possibly the most successful newcomer in 1985 was Anne Klein & Co.'s Donna Karan. After surprisingly leaving Anne Klein to go out on her own, Karan's clothing line was a smash hit. Her clothes perfected the art of feminine sophistication in casual form. One prime example is her method of tying a sarong skirt around narrow pants.
Also notable, 1985 saw the end of the Coty American Fashion Critics' Awards, which for 43 years had celebrated the industry's most promising and successful designers.
It was around this time that fashion was starting to splinter off into so many separate factions that it's difficult to summarize. There were very many different designers who were successful in their own way. No longer was it normal for people to all dress similarly. There were dozens of trends that came and went, some stayed for several years.
The bottom line: the fashion industry was changing forever.
Fashion in 1986
The long, full wool coat emerged the fall of 1986 as everyone's favorite fashion. It became the unifying link in a still-fragmented fashion where, increasingly, anything goes. The big coat covered long flaring skirts, skinny knee-bearing skirts, pants, bulky sweaters, shirts, blouses and even jackets.
The search was on for fresh looks. In London, newcomer Alistair Duncan Blair, whose first collection was acclaimed for its stylish, tailored look.
Romeo Gigli was the new name in Milan. Trained as an architect, he brought a simple, old-fashioned charm to sweaters and skirts. Also in Italy was Zack Carr, a former Calvin Klein assistant, who created spare, minimalist designs for Giorgio Armani and Valentino.
The most promising new designer in the U.S. was 23-year-old Marc Jacobs who released fanciful designs that ran from battle jackets in printed satin to princess dresses with petticoats.
New York sportswear designers were widely praised for the contemporary approach to fashion. The upgraded their clothes by using luxury fabrics such as cashmere and alpaca rather than by adding frills. The leading names in this category were Calvin Klein, Ralph Lauren, Donna Karen and Perry Ellis — who died on May 30 at age 46.
Mink was the fur of choice in 1986. As women moved into better-paying professions, they were able to afford more high-end furs.
Fashion in 1987
The big news in fashion in 1987 was the resurgence of the short skirt. For some time, fashion designers had insisted that anything goes when it came to the length of hemlines. Most women had accepted this approach and some alternated long skirts with short ones. Other women concentrated on the length they preferred.
When fashion collections for fall 1987 were unveiled in the spring, however, it was clear that designers were surprisingly unanimous in their support for the short hemline.
The new hemlines bared the knees and sometimes went to mid thigh. The most popular skirt lengths measured to 21 inches from the waistband to the hem. The shorter lengths were fashion choice for teenagers, but women of all ages began revealing their knees.
Although the new shorter skirts were designed for fall, women jumped the gun and began rolling up the waistbands or turning up their hemlines on their longer outfits to accommodate the new trend before the shorter fashions hit the stores.
Stores didn't go crazy. They still offered longer skirts, but it was clear, short was in.
Fashion in 1988
The extreme femininity displayed in 1987 was a little more subdued in 1988. Colors became a but more classic and clothes were a bit slimmer, but the youthful exuberance from the previous year remained.
More than ever, women demanded variety. Last year, the short skirt was nearly the only thing available in stores. But some women weren't comfortable showing so much leg, or others couldn't wear short skirts at work or school due to dress codes. They needed some conservative hemlines to choose from.
In the spring of 1988, Chanel introduced a handful of suits with long, narrow, elegant skirts. The next month Donna Karan released some summer dresses with hemlines that ranged from the knee t the mid-calf.
Sales were down in 1988, with most retailers blaming either the stock market crash or the fad that was the miniskirt.
Trousers made a strong comeback in 1988, being featured in high fashion collections from Calvin Klein and Giorgio Armani.
Yves Saint Laurent was in what some considered a slump when he released what was arguably his best collection in 1988. Lacroix made bubble skirts that very popular for a moment.
Armani set the pace for soft-tailored suits. Ralph Lauren, Calvin Klein, Louis Dell'Olio and Donna Karan all softened their look.
Geoffrey Beene celebrated his 25th year in the fashion industry. During a six-week retrospective honoring his career, his clothes were displayed on mannequins as art.
Fashion in 1989
The fashion focus in 1989 was on jackets as the staple of most women's wardrobes. Linen, wool and silk were the fabrics of choice. Several designers wanted smaller shoulder pads. Jackets varied in almost every design: ranging from short and swingy to long enough to be worn with stretch pants.
Designers once again created clothes that faithfully followed the lines of the body. Popular colors in 1989 were plums, gold and bright wines. Animal prints were also a popular choice for women.
Dresses and skirts could be any length, either stopping inches above the knee or plunging all the way to the ankles. Coats made of cloth and fake fur received a sales boost thanks to animal-rights activists who urged women not to buy the real thing.
Christian Lacroix settled down to a more standard style in 1989. He worked to establish ready-to-wear fashions to complement his flamboyant made-to-order styles.
Designers in the U.S. had a very successful year 1989. Donna Karen's sexy interpretations of American sportswear and her DKNY collection of casual weekend clothes were a huge hit both in the U.S. and Europe.
Calvin Kline and Ralph Lauren both had very good year and were capturing more overseas business daily.
Bill Blass and Oscar de la Renta were the top evening wear designers.
In May, Dior chose Italian designer Gianfranco Ferre to design both its couture and ready-to-wear collections. Ferre replaced Marc Bohan, who had been with Dior since 1960.
Fendi, the Roman fashion house best known for the fur coats, released reversible coats that could be worn either leather side out or fur side out. The coats were made without linings.
1980s Women's Fashion Pictures
CLICK IMAGE TO ENLARGE
1980s Fashion for Women Video
1980s Fashion for Men Video
1980s Men's Fashion Pictures
CLICK IMAGE TO ENLARGE
Advertisements from Catalogs (Men & Women)
CLICK IMAGE TO ENLARGE