Dresses from the 1950s are easily spotted. The hemline stops around the knee, they look best over a stiff petticoat, and they were a lot of fun to twirl in!
1950s dresses, "swing dresses" as some are called, are coming back into style. Women who love vintage style are going for the malt shop look. It's not a hard look to achieve, and doesn't require much maintenance, but you have to nail the dress.
What were the most popular styles of 1950s dresses? Like every decade since the 1920s, there were a lot of different and experimental styles. But there are several things that dress designers did that were unmistakably fifties.
First example? When sitting down, many 1950s dresses make the shape of a perfect circle. Some people call those "circle dresses."
Some dresses had large bows at the waistline. Many dresses and skirts were pleated. Plaid was very popular and so were floral prints, polka dots and stripes. Wide collars were known to happen and so were puffy shoulders, but not necessary at the same time. The daytime hemline stopped around the knee, but evening dresses were usually long, flowing and to the ankle.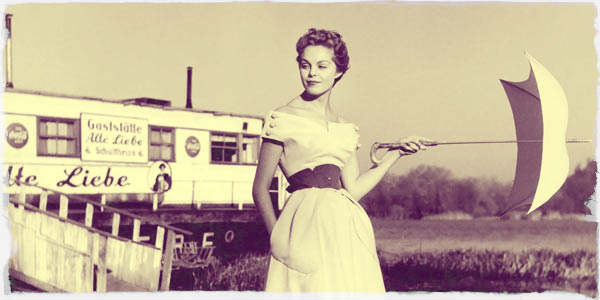 All types of fabrics were used. The 1950s were a pretty decadent decade so the most luxurious fabrics like satin and silk were preferred.
In the mid-50s, some dressmakers tailored dresses with long sleeves. Also, gloves were coming back into fashion, with white being the glamorous choice. From the mid-50s on, dresses had bouffant petticoats underneath. The teenaged girl in the 1950s wore white ankle socks with dark colored closed-toe shoes.
The late fifties saw a surge in popularity of Asian-themed dresses. Also red was a very popular color in the late 1950s.
Obviously the generalizations I make above don't apply to every dressmaker in the 1950s. Almost every fashion designer tried to break the mold in some way or another. It was a very exciting decade for women's fashion indeed.
1950s Dresses from Catalogs
CLICK IMAGE TO ENLARGE