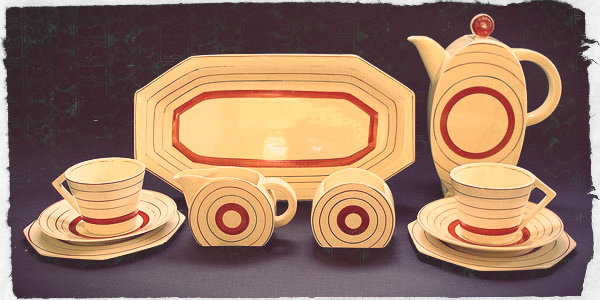 If you've been lucky enough (or unlucky, depending on the quality) to inherit some of your great grandmother's favorite china, then you probably don't need this guide.
But for the rest of us who have to find our antiques at garage sales and thrift stores, being armed with as much knowledge about the past as possible helps us to identify just how old that deviled egg pan really is.
First we need to think about the actual usage of the dinnerware piece. Because eating habits changed so drastically from 1900 to 1999 it can be easy to tell by learning a little bit about how families ate together in different decades.
Also, dinnerware manufacturers stuck to standards and changes happened gradually over time. Because of this, identifying the age of dinnerware by certain characteristics is certainly easier than, say, a vintage pair of shoes.
How to Date Dinnerware by Pattern, Color or Shape
1900-1920
In the early 20th century, it was a family ritual to eat dinner together. Many middle class families had servants and many different pieces that each had its own specific purpose. Dinnertime was much more formal and the dinnerware reflected this accordingly. During World War I (1914-1918) American families ceased buying German and Japanese dinnerware.
Dinnerware made between 1900-1920 typically had flower patterns, especially violets. Calendar plates were also a popular item. They were generally pastel (again, violet) or had a white background. The shapes were very traditional and most plates had rims and a shaped edge.
1920-1940
As houses became smaller, the dining room and dinner table also shrunk. However, with the end of the war, Americans began importing foreign dinnerware again. The new era also brought in some new styles, bright colors and geometric shapes.
In the 1930s, spaghetti sets, corn-on-the-cob sets and deviled-egg plates were introduced. By the late 1930s, holiday dishes became popular. Families wanted turkey plates for Thanksgiving and in 1938 the first dinnerware set decorated with a Christmas tree was sold.
Pastels were still popular and stayed that way most of the century. Cream white or ivory sets with elaborate gilding were common. Homer Laughlin's brightly colored Fiesta broke new ground. Floral borders carried the torch for classic design, but the solid colors made it easier for people to buy their dinnerware in pieces, with mix-and-match, individual style.
1940-1950
The forties were a revolutionary decade in many ways and dinnerware was no exception. All types of modern shapes were being experimented with. Deep red, blue and green were a classy choice, and the peasant (hand-painted) look became popular. Pastels, for once, were pushed to the back of the cupboard.
Contemporary designs stressed a rimless shape and the handles were more streamlined than ever. While dining together was still important, the dinner table became less formal, which required less pieces.
Neighbors and friends would often host each other, which led to the invention of the chip 'n dip set.
1950-1970
In the 1950s, homes began combining the living room and dining room into the same space. This lack of space led to buffet style serving dishes such as casseroles. The rimless plates could be easily stacked. Grilling outdoors started to gain in popularity, which led to new inventions like tongs.
In 1954, Swanson introduced something called a "TV Dinner." It was served on a foil tray. Mix-and-match sets grew ever more popular. The introduction of the microwave in 1955 all but killed gold trim on plate edges because they would spark in the microwave.
People went back to pastels and many dinnerware pieces from this era are muted in color. Some dinnerware had Colonial scenes and others were fantasy or Pop Art. Like everything else, dinnerware designers got very experimental in the 1960s.
1970-1990
Dinnerware got back to the basics in the 1970s. By this time, both men and women were working and families had less time for dinner. Dishes had to be convenient and versatile. They had to withstand a dishwasher, microwave and anything else the need-for-speed family could throw on it.
That's not to say there weren't great collections released during this time. New dinnerware and stoneware was heavy and rough-textured. The bicentennial increased demand for patriotic designs.
Still, many designers embraced a classic, no frills look, with soft colors, flowers or just simple and white.
Other Ways to Date Dinnerware
All types of dinnerware throughout the 20th century were emblazoned with themes from movies, books and television. Obviously these give you a good idea of when they were made.
Colonial scenes were popular in the 1930s due the restoration of Colonial Williamsburg. Mexican and Hawaiian themes were popular in the 1940s. Disney pieces also first became popular in the 1940s.
The southwestern look became popular in the 1950s and a lot of mix-and-match dinnerware was purchased during that time. Space-themed patterns were big in the late 1950s.
You can also date dinnerware by looking at certain words included in the marks. I wrote a whole article about that here.
There are lots of other ways to determine the age of dinnerware, and there have been several books written on the subject. But hopefully you learned something from this page and if you have anything to share please leave it in the comments below. Thank you for reading!