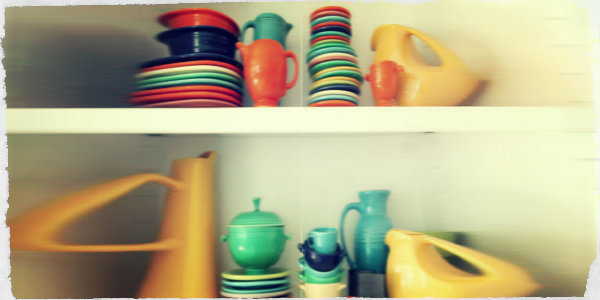 Whether you are buying or selling vintage glass tableware, it's important that you know what the product is actually called. Just like anything, all these little pieces have names and if you're not calling it the right thing, the person you are dealing with may be disappointed.
I recommend someone who is new to collecting vintage glass tableware to read and learn the terms below. I'm not claiming to be an expert, but I'm certainly an enthusiast. If you have any recommendations please leave them in the comments below.
You may notice a fair amount of pieces that don't exist anymore. There's no doubt the dinner setup was more formal in the early-1900s than it is today.
Let's dig in, shall we?
Vintage Glass Tableware Shapes, Sizes, Names & Descriptions
After-dinner cup: demitasse, smaller than a standard cup
Baker: uncovered, oval vegetable bowl
Berry Bowl: part of a set; serving bowl, 6-8″ in diameter, also single bowls, 3-4″ in diameter
Berry set: a set with one 8-9″ serving bowl and three 4″ individual bowls
Bottom's up: a drinking glass with a rounded bottom, often made with the figure of a woman
Butter dish: covered, round or rectangle; "quarter-pound dish" is rectangular and holds 1/4 lb. stick of butter
Casserole: covered, round vegetable bowl, typically heat-resistant
Celery dish: oval platter or shallow dish, typically 11-12″ long
Compote: dish with stem and foot
Console (or centerpiece): low oval bowl, typically 12″ long, used on a long table with matching candlesticks
Coupe soup: shallow pottery bowl, typically 7-8″ in diameter
Cream soup: bowl with 2 handles, 4 1/2″ in diameter, sometimes covered with underplate
Cup and saucer: conventional size for tea and coffee
Demitasse: after-dinner coffee cup, smaller than a cup
Drip-o-later (or dripper): a piece that lies between the cover and coffeepot. Hot water is poured in through the top to make the coffee.
Fast stand: an underplate that is attached to a gravy boat
Fluted (or French baker): uncovered, oval vegetable bowl, straight sides, comes in both large and small sizes
Goblet: a drinking glass with stem and foot
Gravy boat (or sauce boat): oval dish with 1 or 2 spouts, sometimes with handle and usually with underplate
Grill plate: a round, three-section plate used to serve meat and vegetables
Ice lip: specially curved lip of a pitcher to hold ice cubes
Ivy ball: a round glass vase, typically with stem and foot
Nappy: square or round, flat-bottomed dish with sloped sides, typically 6″ across
Onion soup (or lug soup): pottery bowl with tabs instead of open handles
Pickle dish: small oval platter or shallow dish, typically 9″ long
Plate: square or round, for serving
Reamer: a dish and pointed-top cone used to juice citrus fruits
Refrigerator sets (or leftover sets): pottery or glass dishes used for storage
Sandwich server: large plate, typically with upright handle in the center
Tidbit: serving dish, sometimes 2 or 3 layers with upright handle
Tilt jug: a pitcher with a ball-shaped body and angled neck
Tumble-up: a glass bottle with a small tumbler turned upside-down over the neck to serve as a cover and a drinking glass
Tumbler: a drinking glass, typically with a flat base, sometimes footed, no stem
Plate Sizes & Names
Dessert plate: 6 inches
Bread plate: 7 inches
Salad plate: 7.5 inches
Luncheon plate: 8-9 inches
Breakfast plate: 9 inches
Dinner plate: 10 inches
Grill plate: 10.5 inches, divided into three sections
Sandwich plate: 11-13 inches, usually with 2 handles
Chop plate: 13 inches
Goblet Sizes & Names
Cordial goblet: 1-1.5 oz.
Wine goblet: 2-2.5 oz.
Cocktail goblet: 3-4 oz.
Parfait goblet: 5 oz., with short stem and tall, narrow bowl
Claret goblet: 5 oz.
Sherbet goblet: 5-6 oz., with short stem and broad bowl
Champagne goblet: 5-6 oz., with tall stem and broad bowl
Water goblet: 8-10 oz.
Tumbler Sizes & Names
Whiskey or shot tumbler: 1.5-3 oz., 2-2.5″
Juice tumbler: 4-7 oz., 3.75-4.5″, footed
Old Fashioned tumbler: 8 oz., 2.5″
Water tumbler: 9-10 oz., 4-5.5″, footed
Iced tea tumbler: 12-16 oz., 5.5-6″, footed