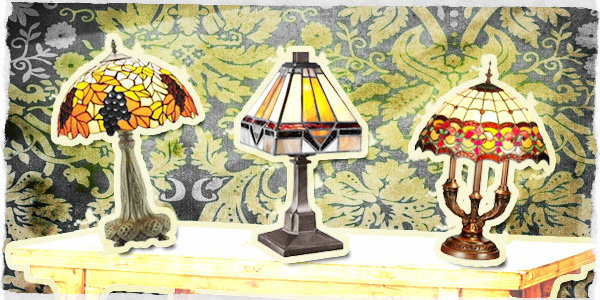 It is without question that the most glamorous lamps are vintage. They just didn't know how to make 'em cheap back then. Fortunately, if you held on to your great-grandmother's Tiffany lamp, you are holding on to quite the valuable piece now.
But did you know there are other vintage lamps besides Tiffany? Of course you did! But in case you are looking for a list of vintage lamp manufactures from the mid-1800s to the present day, we've provided that below.
From Art Deco to 1970s Contemporary, we tried to list as many lamp manufacturers as we could find. Did we forget one? Leave it in the comments below!
List of Vintage Lamp Manufacturers
| | | |
| --- | --- | --- |
| Manufacturer | Location | Dates |
| Aladdin Industries | Nashville, Tennessee | 1949-1999 |
| Arredoluce | Monza, Italy | 1945-1970s |
| Arteluce | Milan, Italy | 1936-1974 |
| Artemide | Pregnana Milanese, Italy | 1959-present |
| Bradley & Hubbard | Meriden, Connecticut | 1852-1940 |
| Craftsman, Gustav Stickley | Syracuse, New York | 1901-1915 |
| Classique | Milwaukee, Wisconsin | 1920 |
| Dirk Van Erp Studio | San Francisco, California | 1909-1977 |
| Duffner & Kimberly | New York City, New York | 1906-1926 |
| Edward Miller & Company | Meriden, Connecticut | 1881-1920 |
| Frankart, Inc. | New York City, New York | 1920s-1930s |
| Fulper | Flemington, New Jersey | 1858-1935 |
| Handel Company | Meriden, Connecticut | 1885-1936 |
| Heintz Art Metal Shop | Buffalo, New York | 1906-1935 |
| H.G. McFaddin & Co. | New York City, New York | 1909-1939 |
| Jefferson Glass House | Follansbee, West Virginia | 1907-1930s |
| Lightolier | New York City, New York | 1904-present |
| Mantle Lamp Company | Chicago, Illinois | 1908-1949 |
| Moe-Bridges Company | Milwaukee, Wisconsin | 1920-1930 |
| Moss Manufacturing Co. | San Francisco, California | 1937-1968 |
| Muller Freres | Luneville, France | 1905-1936 |
| Nessen Lighting | New York City, New York | 1927-present |
| O-luce | Milan, Italy | 1945-present |
| Pairpoint Corporation | New Bedford, Mass. | 1880-present |
| Phoenix Glass Company | Monaca, Pennsylvania | 1880-present |
| Pittsburgh Lamp, Brass and Glass Co. | Pittsburgh, Pennsylvania | 1904-1926 |
| Riviere Studios | New York City, New York | 1910 |
| Roycroft | East Aurora, New York | 1895-1938 |
| Stiffel Lamp Company | Chicago, Illinois | 1932-present |
| The Emeralite Company | New York City, New York | 1939-1960 |
| Tiffany Studios | Corona, New York | 1878-1933 |
| Tilaram | New York City, New York | 1960-1962 |