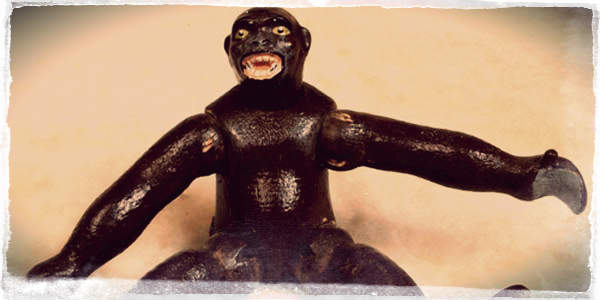 This list of vintage toy manufacturers starts in the mid 1800s and continues into present day. This list included Marx, Schoenhut, Hasbro and 105 more. Hopefully this list comes in handy when you're out and about at the antique mall.
If there are some major toy manufactures that are not listed here, please leave the info in the comments section below so I can add it to the list.
One funny thing I notice about this list: Hasbro decided in 1991 that they were going to buy just about every toy manufacturer under the sun. Then a little later in 1996, Mattel bought just about everyone else.
List of 108 different vintage toy makers
| | | | |
| --- | --- | --- | --- |
| Manufacturer | Location | Dates | Toys Made & Info |
| American Flyer | Chicago, IL | 1910-1966 | Trains, airplanes & accessories |
| American National Company | Toledo, OH | 1894-1941 | Pedal cars, pressed steel trucks, bicycles, scooters |
| Applause Toy Company | New York, NY | 1979-present | Dolls, plush toys, Simpsons |
| Asahi | Tokyo, Japan | 1950-present | Lithographed tin toys, die-cast cars |
| Arcade Manufacturing Company | Freeport, IL | 1868-1946 | Die-cast cars, farm equipment, gasoline pumps |
| Arnold Company | Nuremberg, Germany | 1906-present | Trains & nautical toys |
| Auburn Rubber Corporation | Auburn, IN | 1913-1968 | English Palace Guard toys, military miniatures |
| Bandai | Tokyo, Japan | 1950-present | Lithographed tin toys, action figures, Power Rangers |
| Barclay Manufacturing Company | West Hoboken, NJ | 1923-1971 | Toy soldiers & die-cast cars |
| Bassett-Lowke, Ltd. | Northampton, England | 1899-present | Scale-model railroads |
| Gebruder Bing | Nuremberg, Germany | 1866-1960s | Steam engines, lithograph cars |
| R. Bliss Manufacturing Co. | Pawtucket, RI | 1832-1914 | Lithographed paper on wood, dollhouse, games |
| Brimtoy | London, England | 1910-1932 | Tin and later die-cast road vehicles |
| Wells Brimtoy, Ltd. | Holyhead, Wales | 1932-1965 | Tin and later die-cast road vehicles |
| Karl Bub | Nuremberg, Germany | 1851-1966 | Lithographed tin car, trucks, trains |
| Buddy L | East Moline, IL | 1921-present | Trucks, contruction toys, planes |
| Burnett, Ltd. | Birmingham, England | 1905-1930s | Lithographed tin vehicles, London buses |
| George Carette | Nuremberg, Germany | 1866-1917 | Lithographed tin mechanical trains, cars, boats, planes |
| Carlisle & Finch | Cincinnati, OH | 1895-present | Electric trains (1896-1915), marine lighting after 1915 |
| Carter Tru-Scale | Rockford, IL | 1946-1971 | Farm toys |
| Chad Valley Toys | Birmingham, England | 1897-present | Stuffed bears & toys, tin lithographed toys |
| J. Chein & Company | Harrison, NJ; NY, NY | 1903-1979 | Lithographed tin banks, toys, tin boxes |
| Citroen | France | 1923-1936 | Lithographed tin toy cars |
| Morton E. Converse Co. | Winchendon, MA | 1887-1934 | Wooden housed, dollhouse, dollhouse furniture |
| Corgi | Hawthorne, CA | 1956-present | Made Mattoy in 1956, Mattel bought brand in 1993 |
| Cosmo Manufacturing Co. | Chicago, IL | 1888-1926 | Novelty toys for Cracker Jack, trinkets |
| Creative Playthings | Framingham, MA | 1951-present | Swing sets & playground equipment |
| Crescent Toys | London, England | 1921-1970s | Toy soldiers, metal & plastic toys |
| Dent Hardware Company | Fullerton, PA | 1895-1937 | Cast-iron and cast-aluminum banks & vehicles |
| Dinky Toy | Liverpool, England | 1901-1979 | Dinky toys, toy car kits, trains, relaunched as Meccano |
| Dorfan Company | Newark, NJ | 1924-1934 | Electric & mechanical trains |
| Dowst Brothers Company | Chicago, IL | 1890-1926 | Tootsietoys, dollhouses |
| Dowst Manufacturing Company | Chicago, IL | 1926-1961 | Changed name to Strombecker Corporation in 1961 |
| Ertl Company | Dyersville, IA | 1945-present | Die-cast metal farm & construction toy vehicles |
| Georg Fischer | Nuremberg, Germany | 1903-1930 | Tin toys, often unmarked |
| Fisher-Price Toys | East Aurora, NY | 1930-present | Became of wholly owned subsidiary of Mattel in 1993 |
| Gebruder Fleischmann | Nuremberg, Germany | 1887-present | Tin cars in the 20s & 30s, took over Doll et Cie in 1939 |
| Garton Toy Company | Sheboygan, WI | 1879-1974 | Pedal cars, wagons, sleds, outdoor toys |
| Gendron Wheel Company | Toledo, OH | 1877-present | Pedal cars, wagons, sleds, outdoor toys |
| A.C. Gilbert Company | New Haven, CT | 1908-1966 | Erector sets, magic sets, scientific toys, puzzles |
| Grey Iron Casting Company | Mount Joy, PA | 1881-1969 | Cars & related cast toys, soldiers |
| Grimm & Leeds | Camden, NJ | 1905 | Dollhouses |
| S.G. Gunthermann | Nuremberg, Germany | 1877-1965 | Horse-drawn vehicles, planes, comic characters |
| Haji (Mansei Toy Company) | Tokyo, Japan | 1951-1960s | Metal vehicles |
| Hasbro | Pawtucket, RI | 1923-present | Mr. Potato Head, G.I. Joe, Play-Doh, My Little Pony |
| O. & M. Hausser | Stuttgart, Germany | 1904-1983 | Wooden toys, banks, Elastolin toys, dolls |
| J. L. Hess | Nuremberg, Germany | 1826-1941 | Tin clockwork & pull-along trains |
| Hubley | Lancaster, PA | 1894-1965 | Cast-iron toys, fire engines, cap guns |
| Ideal Novelty & Toy Company | Brooklyn, NY | 1903-1938 | Stuffed toys & dolls |
| Ideal Toy Corporation | Brooklyn, NY | 1938-1982 | Sold to CBS in 1982 |
| Ives Corporation | Bridgeport, CT | 1868-1928 | Lithographed tin clockwork toys, horse-drawn vehicles |
| JEP (Jouets en Paris) | Paris, France | 1899-1965 | Lithographed clockwork cars, airplanes |
| Kenton Hardware Company | Kenton, OH | 1890-1952 | Cast-iron cars, Gene Autry repeating cap pistol |
| Kilgore Manufacturing Company | Westerville, OH | 1925-1985 | Cast-iron cars, Stutz roadster, cannons, cap guns |
| Kingsbury | Keene, NH | 1895-1942 | Clockwork cars, trucks, buses, aircraft |
| Kirk-Latty Manufacturing Co. | Cleveland, OH | 1894-1926 | Pedal cars, wagons, bicycles |
| K'NEX Industries, Inc. | Hatfield, PA | 1992-present | Building sets, Lincoln logs |
| Knickerbocker Toy Company | New York, NY | 1850-1983 | Teddy bears, plush toys |
| LEGO Company | Billund, Denmark | 1932-present | Plastic building bricks & systems |
| Ernest Lehmann | Brandenburg, Germany | 1881-present | Clockwork & lithographed tin toys |
| Lesney Products | England | 1948-1982 | Die-cast toy cars |
| Lineol | Brandenburg, Germany | 1906-1942 | Military toys, soldiers, vehicles |
| Lines Brothers, Ltd. | London, England | 1919-1983 | Tin clockwork toys & cars |
| Lionel Manufacturing Co. | New York, NY | 1900-present | Electric trains & accessories |
| Gebruder Maerklin | Goppinghen, Germany | 1859-present | Toy boats, airplanes, electric trains |
| Manoil Manufacturing Co. | New York, NY | 1934-1955 | Cars & cast toys |
| Marklin | Goppinghen, Germany | 1859-present | Toy boats, airplanes, electric trains |
| Fernand Martin | Paris, France | 1887-1919 | Double-action tin mechanical toys |
| Marusan | Tokyo, Japan | 1947-present | Tin toys, optical toys |
| Louis Marx & Company | New York, NY | 1919-1979 | Revived the Yo-Yo in 1928, electric trains & more |
| Mattel, Inc. | Hawthorne, CA | 1945-present | Barbie, Hot Wheels, He-Man, Tickle Me Elmo |
| McLoughlin Brothers | New York, NY | 1855-1920 | Games, Acquired by Milton Bradley in 1920 |
| Meccano | Liverpool, England | 1901-1979 | Dinky toys, toy car kits, trains |
| Mettoy Company, Ltd. | London, England | 1933-1956 | Tin toys, plastic toys after 1945 |
| Mettoy Playcraft, Ltd. | Swansea, South Wales | 1956-1984 | Die cast Corgi toys |
| Milton Bradley Company | Springfield, MA | 1861-present | Board Games like Battleship & Twister |
| Mound Metalcraft | Mound, MN | 1947-1955 | First Tonka toys, Changed name to Tonka in 1955 |
| MT (Masudaya Toys) | Tokyo, Japan | 1945-present | Mechanical & battery operated tin toys |
| Murray-Ohio Manufacturing Co. | Cleveland, OH | 1919-1957 | Pedal Cars, wagons & bicycles, Steelcraft line |
| Murray-Ohio Manufacturing Co. | Brentwood, TN | 1957-present | Makes bicycles & lawn mowers |
| Ohio Art Company | Bryan, OH | 1908-present | Tin lithographed toys, Etch-A-Sketch, Disney toys |
| Parker Brothers | Salem, MA | 1883-present | Card games, board games, Monopoly, Sorry, Clue |
| Ernst Plank | Nuremberg, Germany | 1866-1900 | Clockwork figures, magic lanterns, boats |
| Playskool | Milwaukee, WI | 1928-present | Tinkertoys, Weebles and other toys |
| Rich Manufacturing Co. (Rich Toys) | Sterling, IL | 1915-1953 | Wooden dolls, toyhouses, rocking horses |
| Rich Industries, Inc. | Tupelo, MI | 1953-1962 | Wooden dolls, toyhouses, rocking horses |
| A. Schoenhut & Company | Philadelphia, PA | 1872-1935 | Toy pianos, dolls, wooden toys |
| Schuco | Nuremberg, Germany | 1912-1976 | Clockwork toys & cars, mohair covered toys |
| Selchow & Richter Company | New York, NY | 1867-1986 | Parcheesi, Scrabble, Pin the Tail on the Donkey |
| SH | Tokyo, Japan | 1959-present | Horikawa Toys, Battery operated space toys |
| J. & E. Stevens | Cromwell, CT | 1843-1930s | Cast iron toys, banks, jacks, doll furniture |
| Strauss | New York, NY | 1914-1940 | Clockwork wind-up toys |
| Strombecker Corporation | Chicago, IL | 1961-present | Tootsietoys |
| Sun Rubber Company | Barberton, OH | 1930-50,60-74 | Rubber cars, dolls, floating toys |
| J.W. Sutcliffe | Horsforth, England | 1885-present | Tin toys, battleships, speedboats |
| Tipp and Company | Nuremberg, Germany | 1912-1971 | Tin military toys |
| Toledo Metal Wheel Company | Toledo, OH | 1887-1930s | Pedal cars, Blue Streak line |
| Tonka Toys | Mound, MN | 1955-1991 | Steel vehicles, acquired by Hasbro in 1991 |
| Toy Tinkers, Inc. | Evanston, IL | 1914-1952 | Tinkertoys, sold to A.G. Spaulding in 1952 |
| Tyco Toys | Mt. Laurel, NJ | 1926-present | Games, toys, action figures, joined Mattel in 1996 |
| Unique Art Manufacturing Co. | Newark, NJ | 1916-1950s | Lithographed mechanical tin windup toys |
| Universal International | Hong Kong | 1980-2000 | Dinky toys, Matchbox cars |
| Wham-O Manufacturing Company | San Gabriel, CA | 1948-present | Slingshots, hula hoopps, fribee, super balls |
| A.C. Williams Company | Ravenna, OH | 1886-present | Cast-iron cars, rigs, airplanes, tractor toys |
| Wolverine Toy Company | Pittsburgh, PA | 1903-1970 | Sandy Andy, Corner Grocery, housekeeping toys |
| Wyandotte Toys | Wyandotte, MI | 1921-1956 | Toy guns, targets, lever action airplanes & cars |
| Y (Yonezawa) | Tokyo, Japan | 1950s-1970s | Battery operated toys (AKA Yone or STS) |