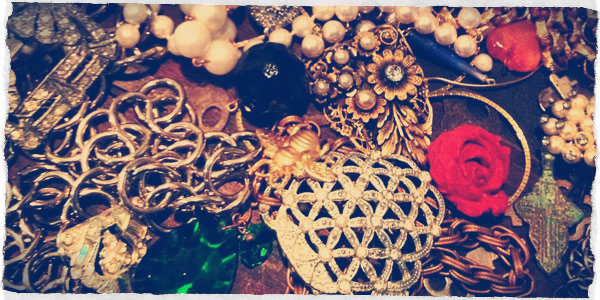 Who doesn't love vintage jewelry? I especially like the elaborate handmade styles like Miriam Haskell.
As you may have found out, it's pretty difficult to identify who the designer is for vintage jewelry. Without studying designer tendencies and characteristics, it's nearly impossible for the average person to tell a Samuel Kirk from a Harry Dixon.
You can look for marks, but frequently the jewelry only bears the mark of the company they worked for. However, if you do find the marks, this list below of over 180 vintage jewelry and metal designers may help you identify how old they are.
This list is sorted alphabetically and by country. We start with Austria and end with the United States. Some of these manufacturers go all the way back to the 1700s!
List of Vintage Jewelry & Metal Designers
| | | | |
| --- | --- | --- | --- |
| Workshop or Artist Name | Location | Dates | Types & More Info |
| Carl Otto Czescha (Czeschka) | Vienna, Austria | 1878-1960 | Metalwork |
| Hagenauer Werkstatte | Vienna, Austria | 1898-1956 | Metalwork |
| Josef Hoffmann | Vienna, Austria | 1870-1956 | Jewelry, Metalwork |
| Otto Prutscher | Vienna, Austria | 1880-1949 | Jewelry, Enamel |
| Wiener Werkstatte | Vienna, Austria | 1903-1932 | Metalwork, Jewelry |
| Henri Clemens Van de Velde | Brussels, Belgium | 1863-1957 | Jewelry, Metalwork, Bronze, Silver |
| H. Stern | Rio de Janiero, Brazil | 1945-present | Gold, Diamonds, Precious Gems |
| Henry Birks & Sons | Montreal, Canada | 1879-present | Silver, Gold, Jewelry |
| Boucheron | Paris, France | 1858-present | Jewelry |
| Edgar Brandt | Paris, France | 1900-1930 | Metalwork, Brass, Iron, Copper |
| Cardeilhac | Paris, France | 1802-1951 | Silver |
| Cartier | Paris, France | 1847-present | Jewelry |
| Coco Chanel | Paris, France | 1920s-present | Jewelry |
| Chaumet et Cie | Paris, France | 1780-present | Jewelry |
| Christofle | St. Denis, France | 1839-present | Silver, Silver Plate |
| Edward Colonna | Paris, France | 1862-1948 | Jewelry |
| Fouquet | Paris, France | 1860-1930s | Jewelry |
| Rene Lalique | Paris, France | 1860-1945 | Jewelry, Silver, Glass |
| Alphonse Maria Mucha | Paris, France | 1860-1939 | Silver, Jewelry |
| Gilbert Poillerat | Paris, France | 1921-1950s | Lamps, Ironwork |
| Gerard Sandoz | Paris, France | 1925-1931 | Silver |
| Lea Stein | Paris, France | 1957-present | Costume Jewelry |
| Van Cleef & Arpels | Paris, France | 1906-present | Jewelry |
| Maison Vever | Metz, France | 1821-1982 | Jewelry |
| Peter Behrens | Munich, Germany | 1868-1940 | Metalwork |
| Theodor Fahrner | Pforzheim, Germany | 1868-1928 | Silver, Jewelry |
| J.P. Kayser Sohn | Krefeld-Bochum, Germany | 1885-1910 | Pewter |
| Kayserzinn | Krefeld-Bochum, Germany | 1885-1910 | Pewter |
| Bernd Munsteiner | Idar-Oberstein, Germany | 1943-present | Gemstone cutter |
| Orivit | Koln-Ehrenfeld, Germany | 1900-1905 | Petwer, Silver |
| Ferdinand Hubert Schmitz | Koln-Ehrenfeld, Germany | 1900-1905 | Petwer, Silver |
| Wurttembergiche Metallwarenfabrik | Geislingen, Germany | 1853-present | Pewter, Silver Plate, Glass, Ikora Metal |
| Artificers' Guild | London, England | 1901-1942 | Silver, Copper, Metalwork |
| Charles Robert Ashbee | London, England | 1863-1942 | Silver, Jewelry |
| Asprey & Company, Ltd. | London, England | 1781-present | Jewelry |
| J.W. Benson | London, England | 1874-present | Jewelry |
| Birmingham Guild of Handicraft | Birmingham, England | 1890-present | Metalwork, Jewelry, Silver |
| Bromsgrove Guild of Applied Art | Bromsgrove, England | 1890-1966 | Jewelry, Metal |
| Alwyn C. E. Carr | London, England | 1872-1940 | Silver, Enamel, Wrought Iron |
| Collingwood & Company | London, England | 1817-present | Silver, Jewelry |
| Comyns, William & Sons | London, England | 1848-present | Silver |
| J. Paul Cooper | Westerham, England | 1869-1933 | Silver, Copper, Jewelry |
| Bernard Cuzner | Birmingham, England | 1877-1956 | Silver, Jewelry |
| Nelson Dawson | London, England | 1859-1942 | Jewelry, Silver, Metalwork, Enamel |
| James Dixon & Sons | Sheffield, England | 1806-present | Silver, Silver Plate, Britannia Metal |
| Christopher Dresser | London, England | 1834-1904 | Designed for many companies |
| Elkington & Co. | Birmingham, England | 1824-present | Silver, Silver Plate, Metalwork, Enamel |
| Alexander Fisher | London, England | 1864-1936 | Silver, Jewelry, Enamel |
| R. and S. Garrard | London, England | 1802-1952 | Silver, Gold, Jewelry |
| Goldsmiths' & Silversmiths' Co. | London, England | 1890-1952 | Silver, Jewelry |
| Hennell, Ltd. | London, England | 1735-present | Jewelry |
| Charles Horner | Halifax, England | 1885-1984 | Mass-produced Enameled Silver, Jewelry |
| Hukin & Heath | Birmingham, England | 1875-1953 | Silver, Silver Plate |
| Hunt & Roskell | London, England | 1844-1939 | Silver, Silver Plate, Jewelry |
| Archibald Knox | London, England | 1864-1933 | Jewelry |
| Liberty & Co. | London, England | 1875-present | Silver, Pewter |
| Margaret Macdonald | Glasgow, Scotland | 1865-1933 | Metalwork, Jewelry |
| Arthur Mackmurdo | Heygate, England | 1851-1942 | Metalwork |
| Harold Stabler | Keswick, London | 1872-1945 | Jewelry, Metalwork, Silver |
| Henry J. Wilson | London, England | 1864-1934 | Metalwork, Jewelry |
| Bonebakker & Sons | Amsterdam, Holland | 1767-present | Jewelry |
| Jan Eisenloeffel | Amsterdam, Holland | 1876-1957 | Silver |
| Bugari | Rome, Italy | 1881-present | Jewelry |
| Buccellati | Milan, Italy | 1919-present | Gold, Precious Stones, Pearls, Watches |
| Paolo de Poli | Padua, Italy | 1905-1996 | Enameled Jewelry |
| Mikimoto | Tokyo, Japan | 1899-present | Pearls |
| Hector Aguilar | Taxco, Mexico | 1939-1966 | Silver |
| Frederick Davis | Mexico City, Mexico | 1920s-1960 | Silver |
| Antonio Pineda Gomez | Taxco, Mexico | 1941-present | Silver |
| Bernice Goodspeed | Mexico City, Mexico | 1940-1972 | Silver |
| Enrique Ledesma | Taxco, Mexico | 1950-1979 | Silver |
| Los Castillo | Taxco, Mexico | 1939-present | Silver |
| Isidro Garcia Pina | Taxco, Mexico | 1943-1986 | Silver |
| Sigfrido Pineda (Sigi) | Mexico City, Mexico | 1952-present | Silver |
| Matilde Poulat | Mexico City, Mexico | 1934-1960 | Silver |
| William Spratling | Taxco, Mexico | 1931-present | Silver |
| Margot de Taxco | Taxco, Mexico | 1948-1985 | Silver |
| Salvador Vaca Teran | Mexico City, Mexico | 1930s-1974 | Silver |
| House of Faberge | Moscow, Russia | 1842-1918 | Jewelry, Gold |
| Feodor Ruckert | Moscow, Russia | 1890s-1917 | Gold, Jewelry |
| Sigvard Bernadotte | Sweden | 1907-2002 | Jewelry, Silver Dinnerware |
| W.A. Bolin | Sweden | 1791-present | Jewelry |
| David-Andersen | Norway | 1876-present | Silver, Enamel |
| Nanna & Jorgen Ditzel | Denmark | 1920s-2005 | Jewelry |
| Hans Hansen | Denmark | 1906-present | Flatware, Hollow Ware, Jewelry |
| Georg Jensen | Denmark | 1904-present | Jewelry, Silver |
| Henning Koppel | Denmark | 1917-1982 | Jewelry, Silver |
| Erik Magnussen | Copenhagen, Denmark | 1884-1960 | Jewelry |
| Anton Michelsen | Denmark | 1841-present | Jewelry, Silver |
| Evald Nielsen | Denmark | 1879-1958 | Hand-hammered Silver |
| Harald Nielsen | Denmark | 1892-1977 | Jewelry, Silver |
| Johan Rohde | Denmark | 1856-1935 | Silver |
| Acme Studios | Los Angeles, California | 1985-present | White Metal, Enamel |
| Allan Adler | Los Angeles, California | 1916-2002 | Silver, Jewelry |
| Alvin Manufacturing Company | Providence, Rhode Island | 1886-present | Silver |
| Aaron Basha | New York City, New York | 1950s-present | Gold, Enamel |
| Bailey, Banks & Biddle | Philadelphia, Pennsylvania | 1832-present | Jewelry |
| F. Carlton Ball | San Francisco, California | 1911-1992 | Silver |
| Benedict Manufacturing Co. | East Syracuse, New York | 1900-1930s | Copper, Pewter, Silver Plate |
| Harry Bertoia | Detroit, Michigan | 1915-1978 | Hammered Brass |
| R. Blackinton & Co. | North Attleboro, Mass. | 1862-present | Jewelry, Silver |
| Bradley & Hubbard | Meriden, Connecticut | 1895-1930 | Brass |
| Alexander Calder | New York City, New York | 1898-1976 | Costume Jewelry |
| Hattie Carnegie | New York City, New York | 1918-1976 | Costume Jewelry |
| Ciner | New York City, New York | 1892-present | Costume Jewelry |
| Charles Clewell | Canton, Ohio | 1899-1955 | Copper, Bronze |
| Betty Cooke | Baltimore, Maryland | 1924-present | Silver, Enamel, Wood, Pebbles |
| Coro | Providence, Rhode Island | 1901-1979 | Costume Jewelry |
| Craftsmen Workshops | Syracuse, New York | 1900-1915 | Copper |
| Margaret Craver | Boston, Massachusetts | 1930s-1988 | Silver |
| Margaret De Patta | San Francisco, California | 1903-1964 | Silver |
| Harry Dixon | San Francisco, California | 1908-1967 | Copper |
| William B. Durgin Company | Providence, Rhode Island | 1853-1935 | Silver |
| Eisenberg | Chicago, Illinois | 1930-present | Costume Jewelry |
| Claire Falkenstein | San Francisco, California | 1908-1997 | Wire, Rough Glass |
| Theodore W. Foster & Brothers Co. | Providence, Rhode Island | 1873-1951 | Jewelry, Silver |
| George Gebelein | Boston, Massachusetts | 1878-1945 | Silver |
| Gorham Corporation | Providence, Rhode Island | 1818-present | Silver, Silver Plate, Bronze, Metalwork, Jewelry, Copper & Gold |
| HAR | New York City, New York | 1940s-1950s | Costume Jewelry |
| John Hardy | New York City, New York | 1975-present | Jewelry |
| Miriam Haskell | New York City, New York | 1924-present | Costume Jewelry |
| Oscar Heyman & Brothers | New York City, New York | 1912-present | Jewelry |
| Frances Higgins | Chicago, Illinois | 1912-2004 | Glass Jewelry |
| Hobe | Mt. Vernon, New York | 1887-present | Costume Jewelry |
| Yuri Ichihashi | New York City, New York | 1991-present | Handwoven Gold & Platinum |
| Jaccard Jewelry Company | St. Louis, Missouri | 1829-present | Jewelry |
| Eugene Joseff, Joseff of Hollywood | Hollywood, California | 1935-present | Costume Jewelry |
| Kalo Shop | Chicago, Illinois | 1900-1970 | Silver, Copper, Jewelry |
| Samuel Kirk | Baltimore, Maryland | 1815-present | Silver |
| Florence Koehler | Chicago, Illinois | 1861-1944 | Jewelry |
| Sam Kramer | New York City, New York | 1913-1964 | Silver |
| Kramer Jewelry Creations | New York City, New York | 1943-1980 | Costume Jewelry |
| Krementz | Newark, New Jersey | 1866-present | Jewelry |
| Walter Lampl | New York City, New York | 1921-1959 | Silver, Gold, Charms |
| Kenneth Jay Lane | New York City, New York | 1963-present | Costume Jewelry |
| Judith Leiber | New York City, New York | 1921-present | Costume Jewelry |
| Fred Leighton | New York City, New York | 1965-present | Jewelry |
| Ed Levin | New York City, New York | 1950-present | Silver |
| Paul Lobel | New York City, New York | 1930s-1965 | Silver |
| Peter Macciarini | San Francisco, California | 1937-2001 | Silver, Mixed Metals |
| Marcus & Company | New York City, New York | 1892-1950s | Jewelry, Copper, Silver |
| Marshall Field & Company Craft Shop | Chicago, Illinois | 1904-1950 | Jewelry, Silver, Brass, Bronze |
| Marvella | New York City, New York | 1911-present | Costume Jewelry, Fake Pearls |
| Matisse | Los Angeles, California | 1946-1964 | Costume Jewelry, Copper, Enameled Copper |
| John Paul Miller | Cleveland, Ohio | 1918-present | Gold, silver |
| Monet | E. Providence, Rhode Island | 1937-present | Costume Jewelry |
| Napier | Meriden, Connecticut | 1922-present | Costume Jewelry |
| Paloma Picasso | New York City, New York | 1949-present | Jewelry |
| Earl Pardon | Saratoga Springs, New York | 1926-1991 | Enamel, Stone, Wood, Wire |
| Potter Studio | Cleveland, Ohio | 1899-1927 | Brass, Copper, Jewelry, Silver |
| Francisco Rabajes | New York City, New York | 1934-1967 | Costume Jewelry |
| Reed & Barton | Taunton, Massachusetts | 1824-present | Silver, Silver Plate, Jewelry |
| Renoir of California | Los Angeles, California | 1946-1964 | Costume Jewelry, Copper, Enameled Copper |
| Nettie Rosenstein | New York City, New York | 1935-1975 | Costume Jewelry |
| Roycroft | East Aurora, New York | 1895-1938 | Copper |
| Seaman Schepps | Los Angeles, California | 1904-present | Gold, Precious and Semiprecious Stones |
| Elsa Schiaparelli | New York City, New York | 1920s-1950s | Costume Jewelry |
| Jean Schlumberger | New York City, New York | 1946-1956 | Jewelry |
| Selro | New York City, New York | 1950s-1960s | Costume Jewelry |
| Shreve & Company | San Francisco, California | 1852-present | Jewelry, Silver |
| Shreve, Crump & Low | Boston, Massachusetts | 1796-present | Hand-Wrought Sterling |
| Art Smith | New York City, New York | 1917-1982 | Silver, Silver Wire, Brass, Copper |
| Spaulding & Company | Chicago, Illinois | 1888-present | Silver, Silver Plate, Jewelry |
| Henry Steig | New York City, New York | 1906-1973 | Silver |
| Gustav Stickley | Syracuse, New York | 1857-1942 | Copper |
| Arthur J. Stone | Boston, Massachusetts | 1847-1938 | Silver |
| Tiffany & Company | New York City, New York | 1853-present | Jewelry, Silver, Metalwork |
| Tiffany Studios | New York City, New York | 1890-1932 | Metalwork |
| Trifari | New York City, New York | 1918-present | Costume Jewelry |
| Unger Bros. | Newark, New Jersey | 1872-1919 | Silver, Jewelry |
| Dirk Van Erp | Oakland, California | 1859-1933 | Copper |
| Nicholas Varney | New York City, New York | 1996-present | Jewelry |
| Webster Company | North Attleboro, Mass. | 1869-1950 | Silver |
| Frank M. Whiting Company | North Attleboro, Mass. | 1878-1960s | Silver |
| Whiting Manufacturing Company | North Attleboro, Mass. | 1866-present | Silver |
| Ed Wiener | Provincetown, Mass. | 1918-1991 | Silver |
| James H. Winn | Chicago, Illinois | 1866-1940 | Jewelry |
| Harry Winston | New York City, New York | 1932-present | Jewelry, Diamonds |
| Samuel Yellin | Philadelphia, Pennsylvania | 1885-1940 | Ironwork |
| David Yurman | New York City, New York | 1980-present | Jewelry |
| Marie Zimmermann | New York City, New York | 1879-1972 | Metalwork, Jewelry |